Tips
The world of gingerbread - diverse, spicy and sweet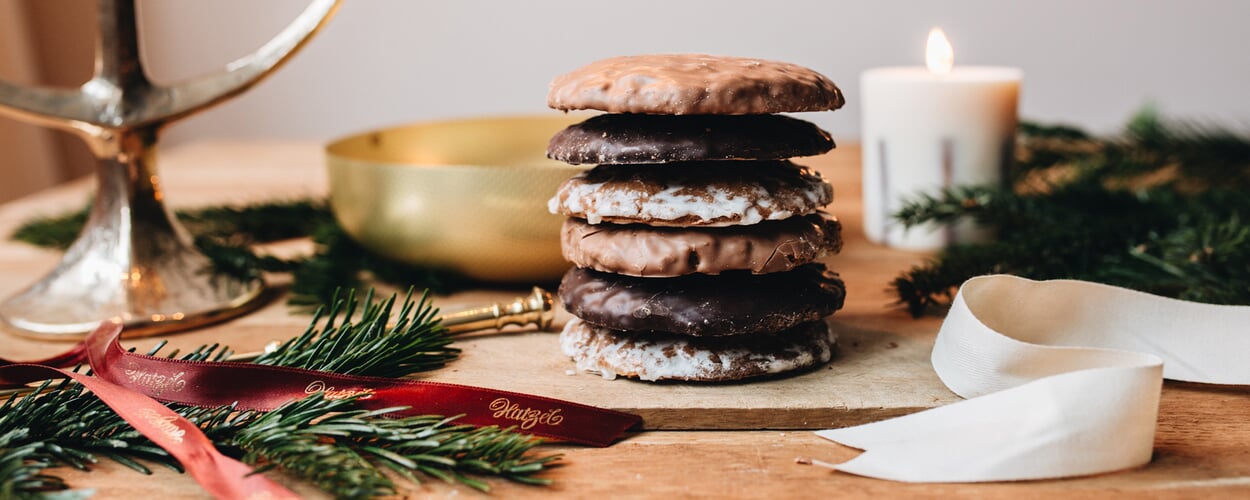 Gingerbread comes in countless recipe variations and manifestations. For most people, gingerbread and its relatives - spiced bread, Printen, Spekulatius - are inseparably linked with the Christmas season. From September on, the supermarkets are flooded with gingerbread, the witch's house made of gingerbread is an indispensable classic, and the jam-filled gingerbread heart is missing on few Christmas plates. Yet this pastry can do so much more. All the many gingerbreads have one thing in common: they are richly flavored and have a pronounced sweetness, which is traditionally achieved by a high honey content. The rather lavish content of honey (or other sweeteners) is offset by a low proportion of milk and fat: This ratio of its ingredients accounts for the long shelf life of gingerbread.
Not only at Christmas time. Gebildbrote.
Gingerbread, as we know it today, originated from the tradition of so-called Gebildbrote. Such figuratively shaped baked goods are still produced today: Spekulatius, for example, are hardly conceivable without a motif. Traditionally, shaped breads are made with the help of so-called models, which can be based on any conceivable motif: Animals and people, windmills, stars and comets and much more. The motifs were of course closely linked to the purpose of the baked goods. For long before Christian festivals such as Christmas or Easter, Gebildbrote were baked: as consecration offerings for fertility or religious rites, as love charms, or even as burial offerings. They were durable in any case and were also suitable as food for the journey.
A pastry from Dinant. Finds taste in Aachen.
Gingerbread was not originally limited to the Christmas season. The ancient Egyptians baked honey cakes as burial offerings, the Romans tasted panis mellitus spread with honey all year round, and in the Middle Ages gingerbread was as much a part of Lenten cuisine as strong beer. And then there was the small Belgian town of Dinant. It was there that the form of gingerbread we know today was invented, the "Couque de Dinant". This hard pastry was very popular everywhere and had a lasting influence on gingerbread baking. Franconian monasteries, for example, took up the recipe and developed it further in their own way. And in Aachen, the recipe for Aachen Printen was developed on the basis of the gingerbread from Dinant.
Indulgence in all its varieties.
Today, the variety of gingerbread knows hardly any bounds. At Manufactum you will find a fine selection of this highly aromatic pastry. For example, the secret of the crispy Mescheder Printen lies in their small pieces of rock candy. These Printen follow tradition and are recommended not only for the pastry plate, but also as a hiking snack, as they are nutritious and spicy and do not break.
In the gingerbread factory Gebr. Fraunholz, Elisen gingerbread is baked entirely without flour - nuts, almonds, honey, sugar, marzipan, candied orange peel, candied lemon peel, eggs and spices are used to make a succulent, spicy confection, which is then covered with dark chocolate. Not to forget the Läckerli, a Basel gingerbread specialty. It was first mentioned in the city's records and council books in 1720, when the wife of wine cooper Franz Herman declared that she had acquired the "science of baking sugar bread and 'Läckerli' from her father, the Pastetenbeck Samuel Gessner, and made such baked goods at the request of local matrons for their best pleasure." Our Basler Läckerli come from the Läckerli-Huus, founded in 1904. They are baked from flour, honey, sugar, candied lemon peel, almonds, hazelnuts and spices and coated with a thin glaze of sugar and Baselbieter Kirsch before being accurately cut into small squares. As unassuming as the pastry is at first glance, it is delicious. In Basel, it is sold all year round, and for our Belgian neighbors, it is also speculoos season. The popular pastry is considerably thicker than "German" Spekulatius and therefore also particularly crunchy. Manufactum offers Spekulatius from the Flanders Premonstratensianabtei Postel. The canons also run a dairy whose butter is baked into the Spekulatius.