Ceiling Lights
Lighting planning goes far beyond simply hanging a light bulb from the ceiling. A well-lit room comes to life through various lighting designs and light situations. In this setting, ceiling light fixtures play a subtle but essential role. Read More
IDEAS & ADVICE
Ceiling Lights: Everything Good Comes from Above.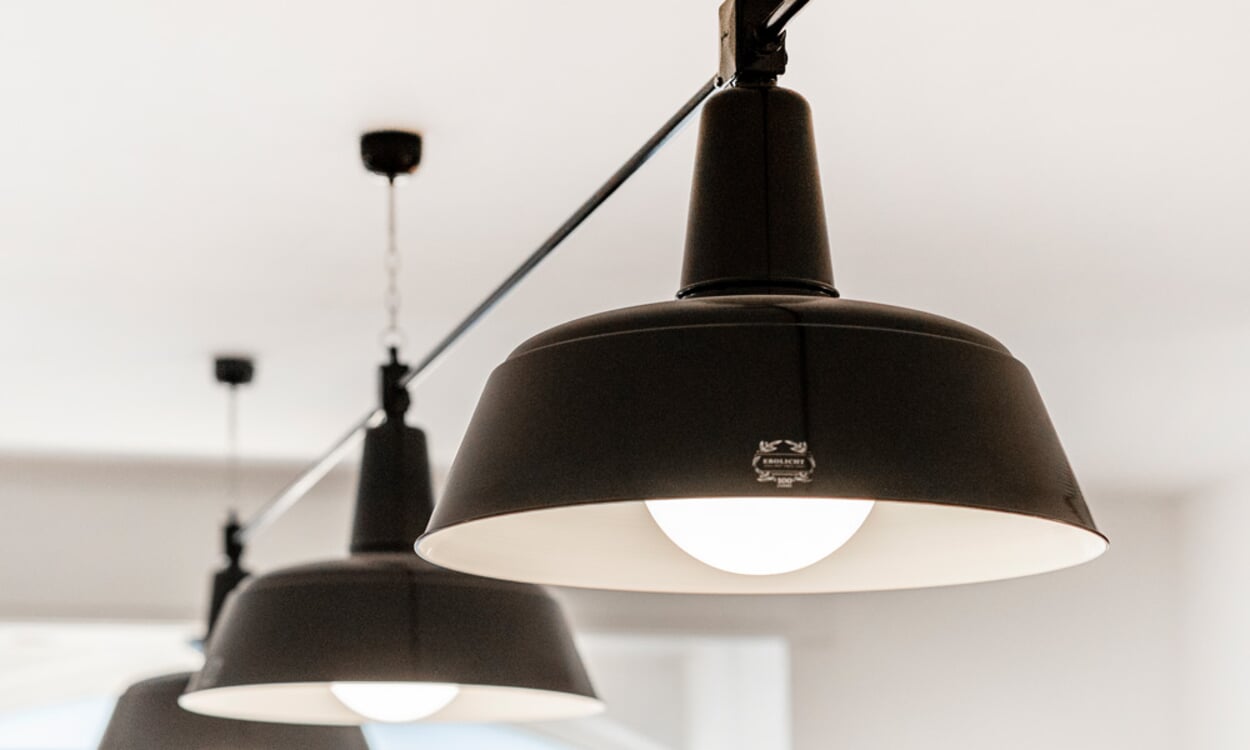 Lighting planning goes far beyond simply hanging a light bulb from the ceiling. A well-lit room comes to life through various lighting designs and light situations. In this setting, ceiling light fixtures play a subtle but essential role. While other luminaires provide atmosphere or accents, the ceiling light is the first switch you flick when entering a room. Being pragmatic by nature, with ceiling lights, it's all about seeing, not necessarily being seen. And the models of the Manufactum range achieve this in a simple, yet stylish way with an understatement that allows other lighting elements to unfold their full potential to create an ambience.
Look up to the ceiling for illumination.
If you ask yourself which are the rooms, you need ceiling lights for, the answer is as follows: ideally, for all of them. Sufficient basic lighting in the kitchen or living room and ceiling lights for the hallway ensure that you can go about your day with adequate brightness and no concerns about a strain on the eyes or dimness related safety issues at home. Ideally, the lamp can be turned on directly from the light switch at the door and is attached to the ceiling in a central position. From there the light is distributed evenly throughout the room – if you search for a more directed light, you will find pendant ceiling lights with shades in a separate category – with the simple flick of a switch.
Not at all stuck-up and above. Ceiling lights make themselves useful everywhere.
The function of ceiling lights can vary from room to room. In straight corridors, the ambience gets brighter and more inviting when the light is focused not only on the floor but also on the ceiling and walls. In stairwells, safety is the primary function, since bright illumination from above produces short shadows and helps to distinguish each step clearly. Ceiling lights in the bathroom and kitchen provide ample brightness, while additional zone lighting illuminates work counters and mirrors.
When you think of living rooms and bedrooms, usually atmospheric lighting is the focus. However, general lighting can be useful, since any dust in the corners is more easily hoovered away when it's visible. In the study or library, good lighting contributes significantly to better concentration. Here, ceiling light fittings can compensate for stark differences in brightness between areas where the light is directed to certain spots by accentuating wall lamps or desk lamps. As a result, your eyes don't tire as quickly, and your productivity remains at peak level. Children's rooms also benefit from agreeable lighting in all areas, especially when a glare-free alternative is used to protect the little ones' sensitive eyes.
In principle, if a room isn't adequately lit, the eye immediately perceives this as unpleasant and unbalanced. So, even when your ceiling lights are serving a more utilitarian function, combining them with supplementary fixtures can go a long way to achieving a homely atmosphere with well-balanced lighting. Dimmable lamps are also a great means of achieving flexibility in the light setting in a room.
Meet the light of your life. What to consider when choosing ceiling lights.
Aside from aesthetic considerations, there are also practical issues to keep in mind when selecting ceiling lights. Here are a few tips to help you decide:
Which room is the ceiling light for? Do you plan to work there or is it a place of relaxation?
How does the lighting fixture fit into the design of the room? A harmonious room shouldn't use too many colours, shapes, or materials. A review of existing details such as fittings or furniture legs can help steer your thoughts.
Has the model you have chosen for the bathroom the required IP Code rating?
What kind of bulbs does it require? How many watts or lumens is the product designed for? What kind of light will it generate and is this sufficient for my needs?
Give some thought to how much light your room needs. Kitchens and bathrooms call for triple the brightness and coverage of a living room. Rooms painted or decorated in light colours need less coverage than their darker counterparts.
Do you want direct light from an exposed, clear light source, or would a glare-free, diffused light from a shade made of opal glass be better?
Whichever variation best suits your taste, the majority of ceiling lights from the Manufactum collection are compelling for both their simple design and a wide range of uses. Their subtlety of style allows them to integrate into any room design. Some models can even be mounted as wall fixtures. Suitable lighting options show that form follows function here, but not at the expense of its visual impact. Seen in the right light, one may say au contraire.