Garden Furniture
"If you have a garden and a library, you have everything you need," declared Marcus Tullius Cicero several decades before the birth of Christ. But one thing the Roman philosopher and statesman did not think about was appropriate garden furniture ... Read More
Ideas & Advice
Exquisite Garden Furniture. For Relaxed Outdoor Living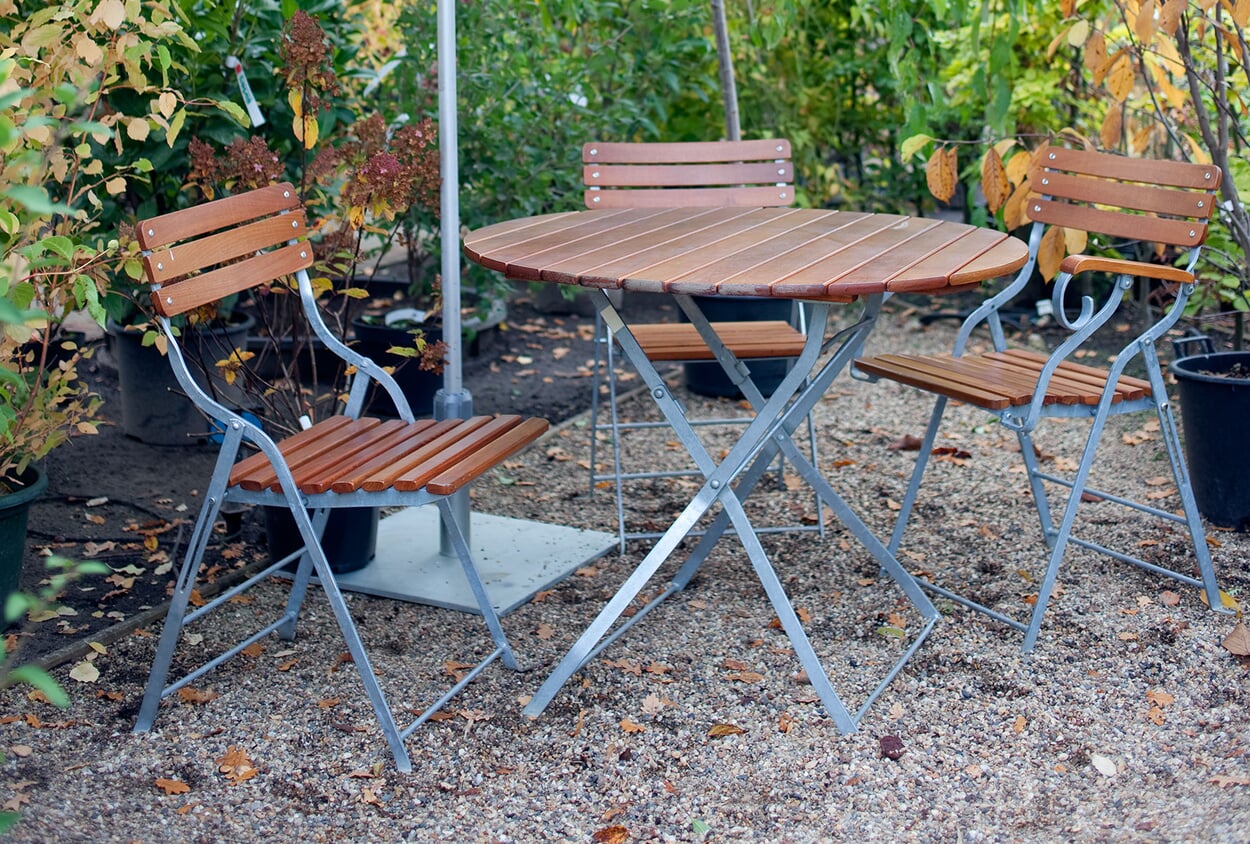 "If you have a garden and a library, you have everything you need," declared Marcus Tullius Cicero several decades before the birth of Christ. But one thing the Roman philosopher and statesman did not think about was appropriate garden furniture that would enable owners to sit back and enjoy enlightening literature in the shade of an olive tree, cooled by a pleasantly fragrant summer breeze. But perhaps for the Roman upper classes – who liked to recline while they dined – talk of furniture was simply too banal. Over 2,000 summers have passed since then, and by the mid-20th century at the latest, with the growth of the leisure society, even non-noble garden owners began to consider the best ways to furnish their gardens. At last we have time to enjoy the pleasures of al fresco living with friends and family. The garden has evolved from a place of mere food production to a "green lounge" – our very own recreational space. And as such, gardens today are often designed by their owners with a great deal of creativity and enthusiasm.
With our collection of high-quality garden furniture, you too can transform your garden into a welcoming outdoor retreat. Alongside tables, chairs, benches and practical storage facilities, you'll also find trellises, plant pots and weather-proof lighting systems that allow you to design your garden according to your personal needs and preferences – whether you want to use it as a place for relaxation or a venue for sociable summer barbecues. Of key importance to our range of products is the quality of materials. Many of the pieces we offer have already proven their value in the professional sector. Thanks to our creative buyers, we can now offer them to you for private use. Robust and natural materials such as galvanised steel, powder-coated aluminium and weather-resistant woods from sustainable forest management are not only attractive but also designed to last if looked after properly. Essayist Aba Assa once wrote: "If you have a garden, you already live in paradise." And once you've created your own personal Garden of Eden, you probably won't mind going without the appropriate library.
Location, maintenance and function. What to consider before purchasing garden furniture.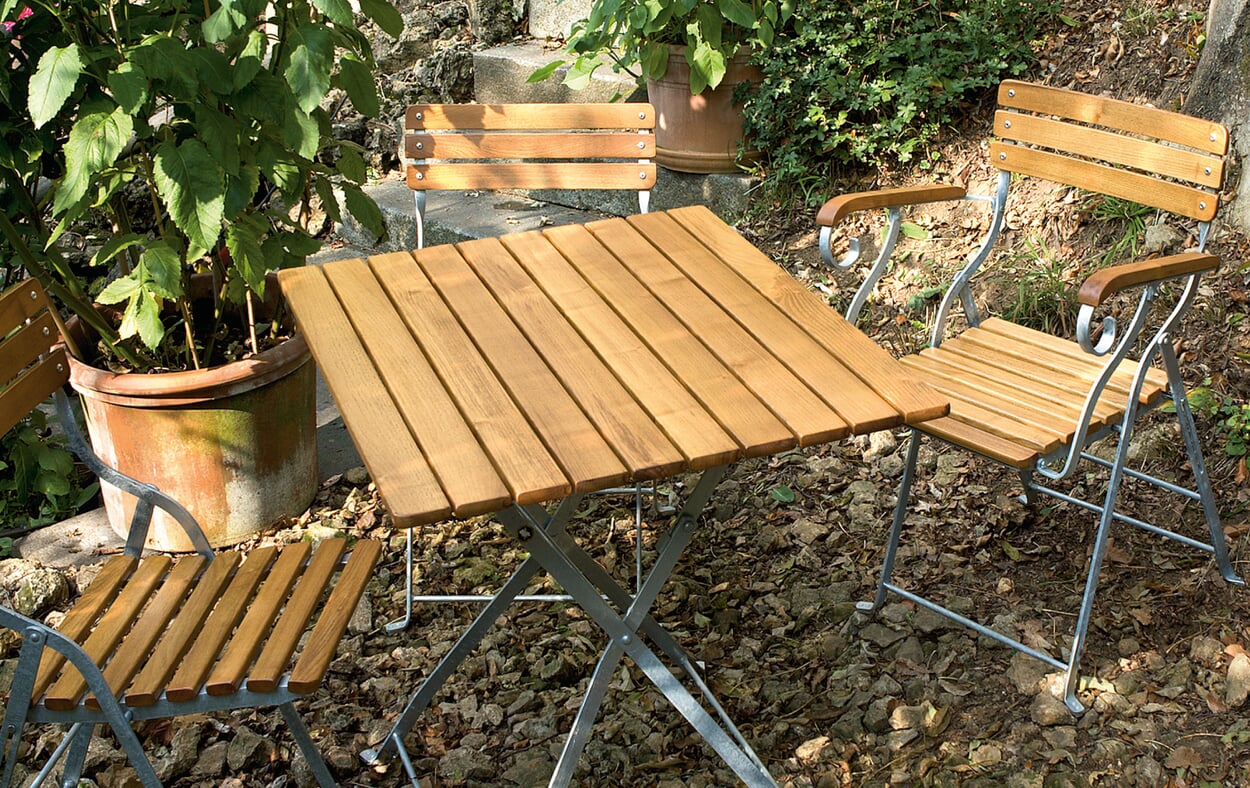 An enormous variety of furniture is available on the market today. Yet we are probably all familiar with those neglected parts of gardens where forlorn items of furniture fail to fit in with the surroundings. Stylistic inconsistencies, "too much" furniture in too confined a space or simply an unflattering choice of colours or materials are sometimes all it takes to produce such an unwelcoming effect that no one wants to spend time there. By asking yourself a few simple questions, you can avoid this, discover your needs and make it easier to choose the right garden furniture.
How much space do you have? How many people are you catering for? Not everyone has a garden big enough to accommodate long benches or even an open-air kitchen. When it comes to furnishing urban patios or balconies, you sometimes have to adopt a minimalist approach and make compromises. And it's also worth thinking about the size of the furniture itself. Depending on design and function, garden furniture can come in very different heights and sizes. So if you're not buying a suite, it's worth checking measurements to make sure table and seat heights match.
Does the furniture have to fulfil certain functions? What are your preferences? Chairs and benches with deep, wide seats are perfect for reading and relaxing, while chairs with shallow seats and upright backrests are more suitable for use at a garden table. Stackable, fold-up and portable furniture is easier to carry outdoors and store away again. This is useful if you're expecting lots of guests to a summer garden party, though, of course, you need enough storage space for the rest of the time. Heavy furniture is great as a permanent seasonal feature – for example, in your favourite spot in the garden. But bear in mind the longevity of high-quality garden furniture and the fact that you may still be carrying it into your garden shed for the winter in fifteen or twenty years' time.
How much maintenance does your garden furniture need? It goes without saying that outdoor furniture has to be robust to withstand the elements. But even if stowed away in the winter, garden furniture is still exposed to extreme conditions during the rest of the year. Ice and cold temperatures, rain, wind and UV radiation can all damage garden furniture and, depending on material, have unattractive consequences. These can only be avoided if you take appropriate precautions.
Choosing garden furniture carefully. An introduction to basic terms and materials properties
Naturally, the basis of all furniture should be high-quality materials. However, the quality of materials is especially important for the outdoor furniture since it determines not only the appearance and stability of individual pieces but also their resistance to weathering, maintenance levels and not least of all their weight – another factor that shouldn't be underestimated. We have summed up the properties and suitability of the materials we offer in the following.
Robust and natural. Garden furniture made of wood
Solid wood, as a purely natural product, is a classic in the garden furniture sector. Thanks to its warm colours, which can range from honey-yellow to medium brown tones depending on type, and its beautiful structure, it can create an inviting, welcoming atmosphere in all garden settings. Large, bulky furniture blends well into rustic-style country gardens, while more elegant, contemporary styles can become timeless all-rounders. If left untreated, almost all types of wood develop a characteristic silver-grey patina over time. If you don't like this, you can sand down or treat the wood with nourishing oil. Stains can be removed with lukewarm water or, if necessary, a special wood cleaner. All the European woods we offer, such as larch, oak or robinia, are ideal for outdoor furniture and generally withstand the elements all year round as well as fungal and insect attacks without additional surface protection.
Exotic but environmentally-conscious. Rattan
The rotang palm is a climbing plant that thrives in the hot, humid climate of Indonesian rainforests. The shoots wind their way up trees and reach lengths of up to two hundred metres. After harvesting, it takes only five to seven years for the tree to re-grow – a quality that makes rattan one of the most sustainable materials that can be used in furniture-making. It's as strong as wood, but more durable, more flexible and, above all, much lighter thanks to its porous structure and low internal density. This makes rattan furniture easy to lift and move around. Like all wicker products, rattan garden furniture is hand-made – every single piece is genuinely unique. Thanks to its vibrant colours and shapes, it is ideal in Mediterranean or Asian-style gardens. But because untreated rattan is neither weather nor fungus-proof and its siliceous or waxy outer skin means that it cannot be protected like wood, rattan furniture should be covered over in bad weather and stored indoors during the winter. Rattan furniture is best cleaned with a damp cloth and possibly a little detergent. Under no circumstances should moist rattan come into contact with metal, however, because the tannins it contains can quickly turn the rattan grey-black. Rattan specialists like to use a light leather care product to keep the plant fibres supple.
The indestructibles. Steel furniture
Steel looks elegant, is robust and withstands all kinds of weather conditions, especially if protected by an additional zinc layer, like most of our products. Zinc not only passively shields the metal against wind and weather, it also offers active protection against corrosion. As a so-called "sacrificial anode", it forces the oxygen molecules involved in the oxidation process to react with their own atoms rather than with those of the metal it is protecting. Steel can be worked into very fine, filigree elements, allowing for great furniture design flexibility. Combined with materials such as glass or concrete, it blends in well with modern, minimalist gardens. Ornamental steel and wood combinations, on the other hand, look good in a Mediterranean or classic setting. But remember, steel furniture, even if made from pipes, is by no means lightweight and needs seat covers or cushions because, like all metals, it can get very hot in the sun. Depending on type, stainless steel also shows up fingerprints and grease stains which need to be removed every so often with a stainless steel cleaner. Matt-brushed finishes are far less susceptible in this respect. If you opt for steel furniture with a coloured powder coating, all it needs is the occasional rinse with a garden hose.
 
Al fresco classics. Iron furniture
Iron, along with wood, is one of the oldest materials used for outdoor furniture. In the catering business, in particular, it has been popular for many years. Thanks to its often historical character, cast-iron furniture looks good in classic or ornately designed gardens, adding a romantic touch. Although very solid, iron is susceptible to rust, which means surfaces require a protective coating and should not be cleaned with scouring agents. Our range of iron furniture has a special protective varnish which contains an anti-rust agent. Damaged spots should be touched up quickly, which is why we supply a small bottle of varnish with all of our items. Protected in this way, iron furniture can remain outdoors all year round – given the weight of this kind of furniture, definitely an advantage! But if positioned in direct sunlight, cushions should be used to avoid accidental burns.
Summer lightweights. Furniture made of aluminium
Aluminium garden furniture is conveniently lightweight and robust and a first choice if garden chairs and tables need to be set up and put away again flexibly, for example, when you're expecting a large number of guests. Aluminium furniture is usually also stackable so can be stored away without taking up much space. Although inherently rust-resistant, aluminium can develop an unsightly appearance if exposed to moisture for too long. It can be treated with a complex electrostatic powder coating followed by a cathodic dip which makes it virtually indestructible – even if it stays outside all winter. Aluminium is easy to clean, and small scratches can be easily touched up with an appropriate touch-up pen. Functionally designed and available in many colours, aluminium furniture looks good in modern, timelessly styled gardens. But like all metals, aluminium also overheats if exposed to direct sunlight. And if you store it away in the winter, make sure the room is dry and the furniture is left uncovered.