Comfortable in summer. Linen bedding
Before cotton came to Europe, bed linen was mostly made of linen. This had good reasons: It is naturally antistatic and does not attract dust. Due to its smooth surface, it is kind to the skin and easy to clean. Linen can conduct heat well and absorb a lot of moisture without feeling damp. Since it also quickly dissipates the moisture, it is perceived as pleasantly cooling.
Our linen bedding at a glance
Pithy to the touch. Colored in the yarn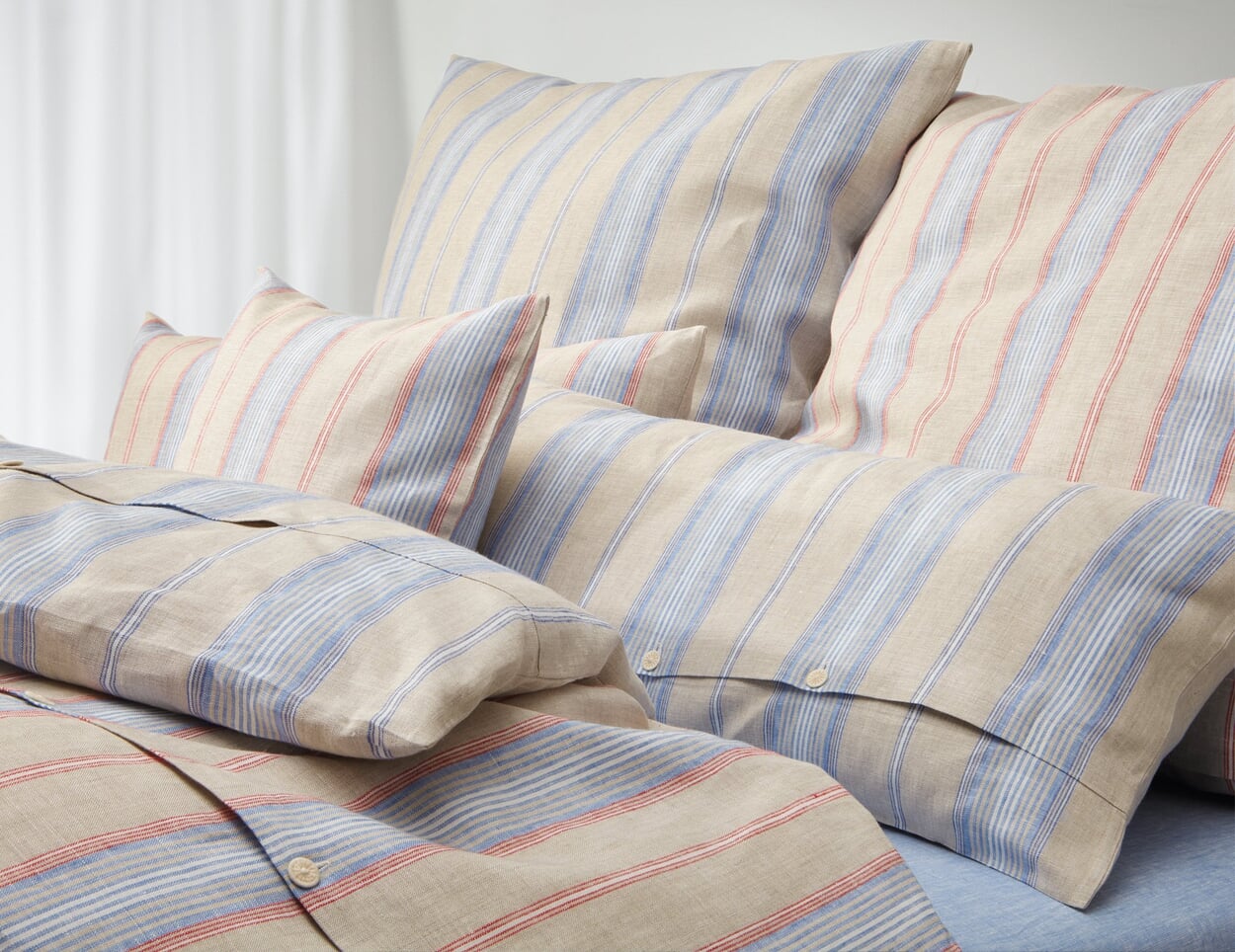 From Leinenweberei Hoffmann, located in Neukirch, Upper Lusatia, comes this summery, striped bed linen. Hoffmann uses only linen yarns of European provenance, as this is the only way to guarantee the quality and outstanding properties of linen. European long fiber flax is also processed here. The colorful yarns are dyed before weaving - a process that is more time-consuming and expensive than printing the fabrics, but which makes the colors more intense and lightfast. The fabric is somewhat stronger and has a pithy feel.
Fine batiste. Cooling linen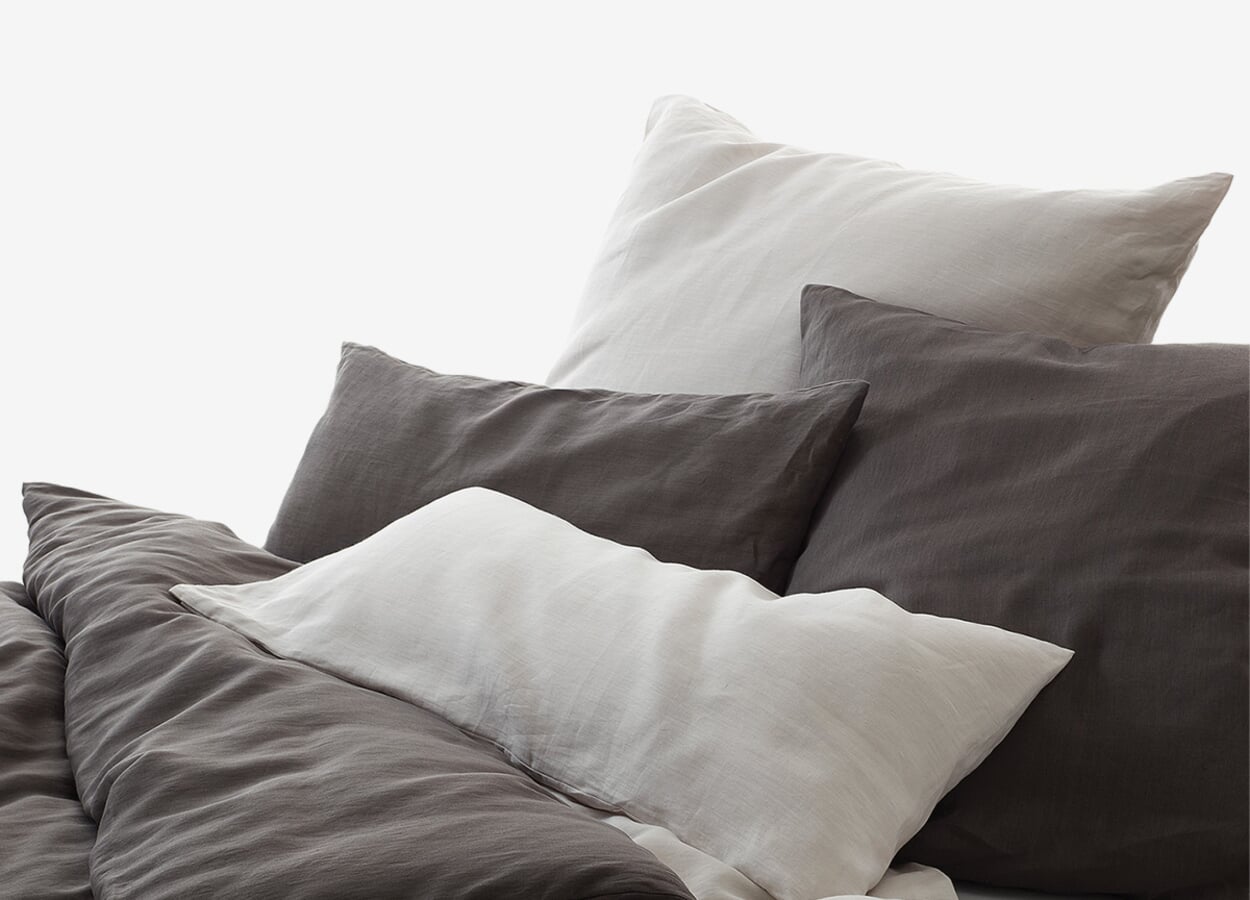 For this light and airy bed linen, the Hessian linen weaving mill Driessen processes extremely fine linen batiste. For this, the best European long fiber flax is spun and woven in a dense plain weave. Due to the high yarn count of Nm 26 in the warp and Nm 33 in the weft, a dense, even weave is created. The fabric is very smooth and has a soft feel. 100% linen. Basis weight 146 g/sqm. Machine wash up to 60 °C. Do not put in the dryer. Shrinkage 2%. Contains non-textile parts of animal origin: mother-of-pearl buttons.
Fine stripes. Across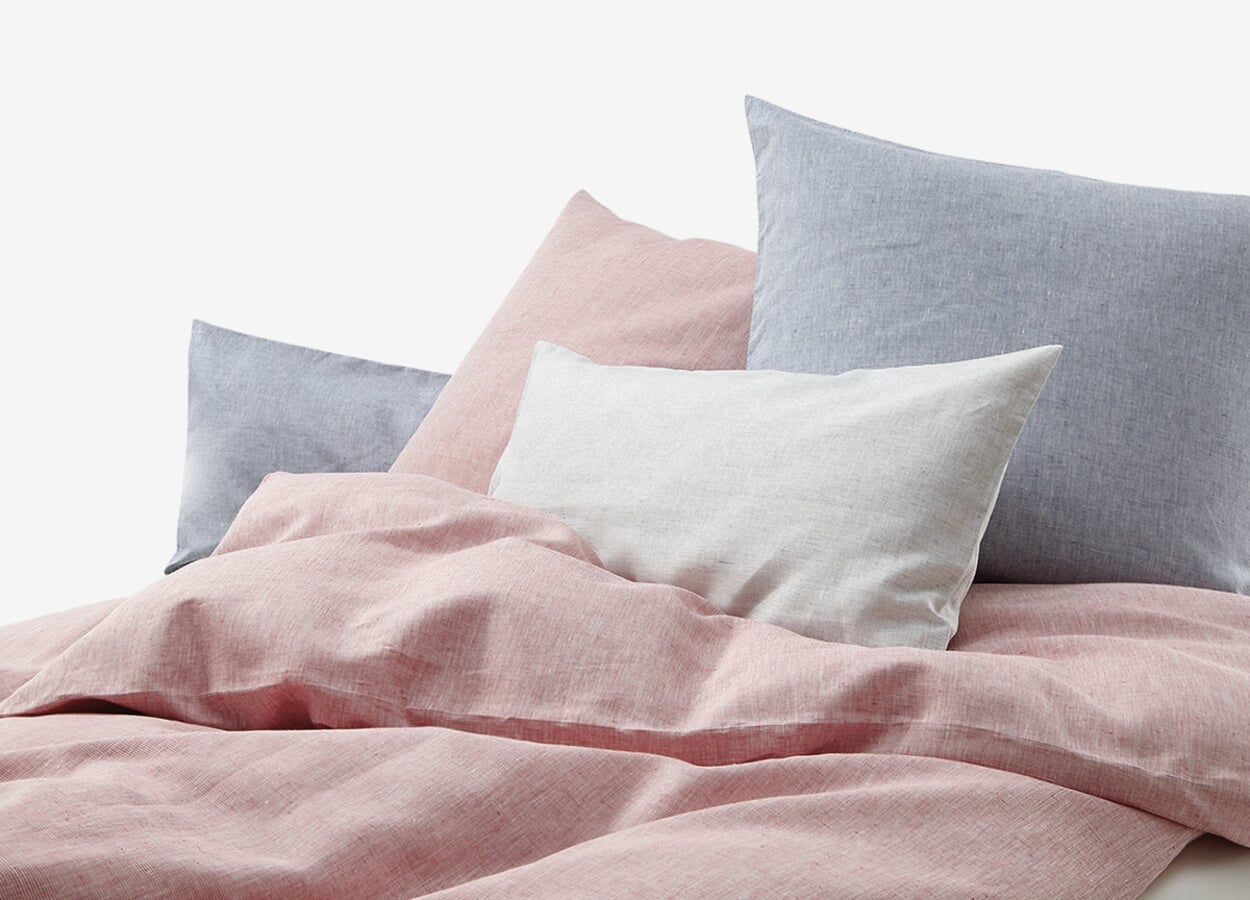 If you look at the bed linen made of pure linen from a distance, it first looks like mottled. Only on closer inspection you can see the fine stripes, which run here across and not as often in the longitudinal direction. In the light (white-blue) linen, the stripes are blue, the base is white. In the red or blue-white covers, white stripes run on a colored background. The Lausitzer Weberei Hoffmann processes exclusively linen from European long fiber flax. The yarn used here is quite fine with a thickness of Nm 26 and results in a fabric that is as fine as it is light with a soft, slightly grainy feel.
Light and airy. Linen from the Mühlviertel
The traditional Vieböck manufactory in Helfenberg produces this fine linen bedding from a twill weave fabric with a narrow herringbone pattern. With 26 warp threads and 20 weft threads per centimeter, it is particularly dense, fine and yet exceptionally airy and light. The smooth fabric has a pleasantly soft feel and does not fluff.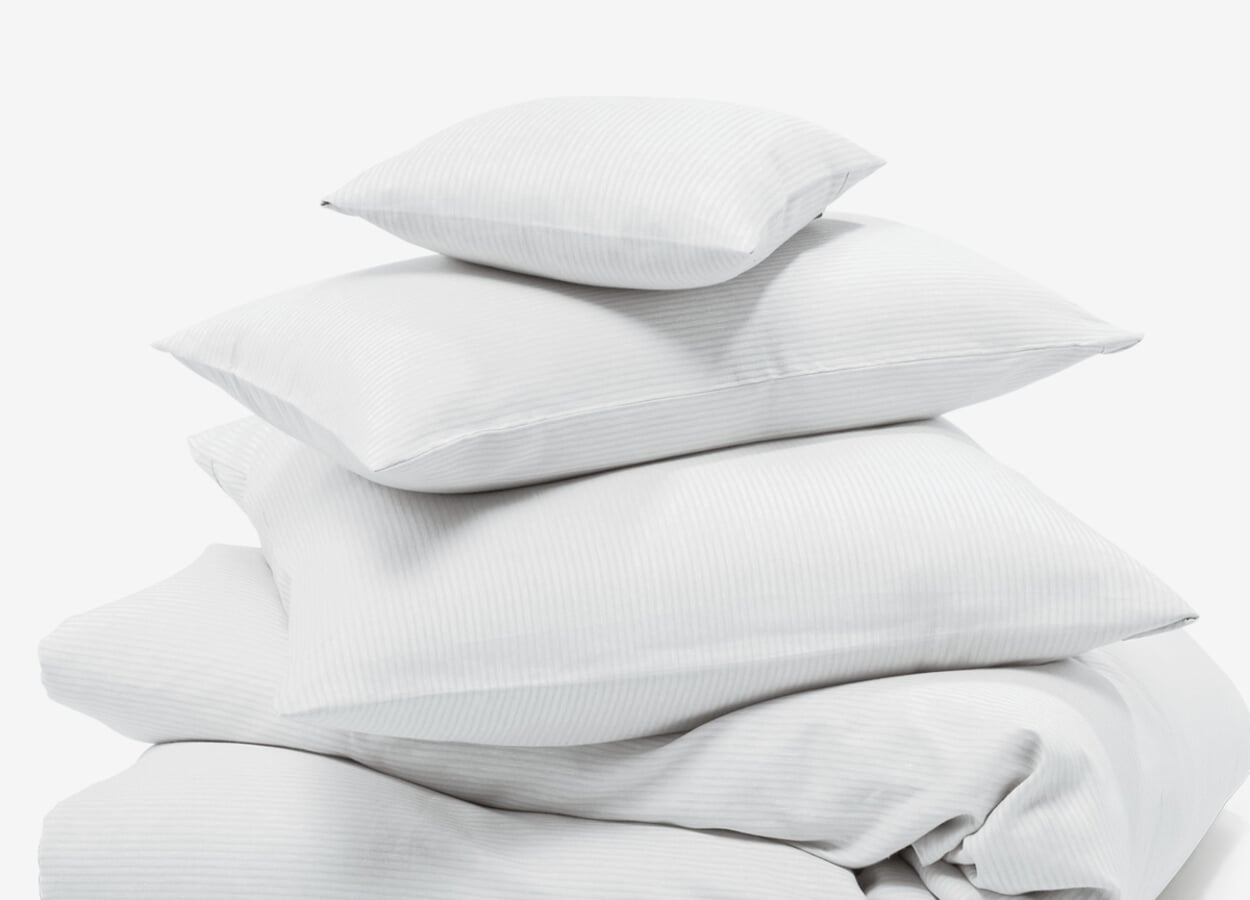 At the same time, the extra-fine long flax yarns enable a fabric weight of 134 g/sqm, which is extremely low for linen fabrics; the shimmering "luster" typical of linen is particularly effective here. 100% linen in twill weave. Fabric weight 134 g/sqm. Yarn count in the warp Nm 30 and in the weft Nm 36. Machine wash up to 95 °C; please do not spin dry and do not put in the dryer. Pull the laundry into shape while still damp. With yarn wrapped twisted buttons.
Matching products