Helpful tips
Timelessly beautiful classics. Our men sweaters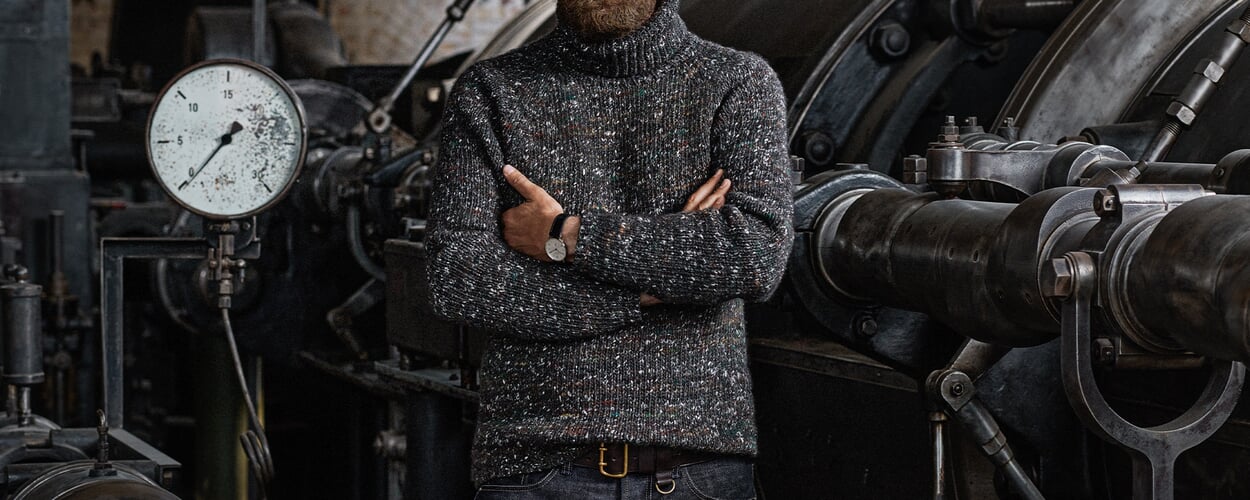 Once worn exclusively as workwear on land and in seafaring, the sweater is now an indispensable garment in any wardrobe. In simple colors and cuts, it can be combined at will and can be worn for any occasion. It is also extremely convincing with refined cut details and impressive color and knit patterns. But above all, and this was already appreciated by the workers and sailors of bygone days, it reliably keeps us warm in summer and winter.
Created by experienced (knitting) specialists
Puristic, straightforward designs, nautical designs in classic shades and traditional knitting patterns - with us you will find timelessly beautiful sweaters that effortlessly outlast short-lived trends. Our men's sweaters come from manufacturers who meet the highest standards in the quality of materials and their workmanship. Centuries-old knitting art, innovative manufacturing processes and superior craftsmanship testify to an excellent level of workmanship, which is reflected in the cuts and patterns, in the wearing comfort and, last but not least, in the longevity of the sweaters. Thus, they are characterized by quality materials, robust metal zippers and neatly finished seams. A small and fine selection of high-quality sweaters is therefore enough to give you pleasure for years to come.
Produced as fairly and sustainably as possible
In line with our mission statement of making sustainability the focus of our product selection, we work with many manufacturers who meet ecological and social standards such as fair working conditions and certified raw materials in the production of their clothing. Thus, a high proportion of our sweaters are preferably made in European manufactories and from natural fibers, which increasingly come from controlled organic cultivation (kbA) and controlled organic animal husbandry (kbT).
Our men's sweaters. Made from high quality natural fibers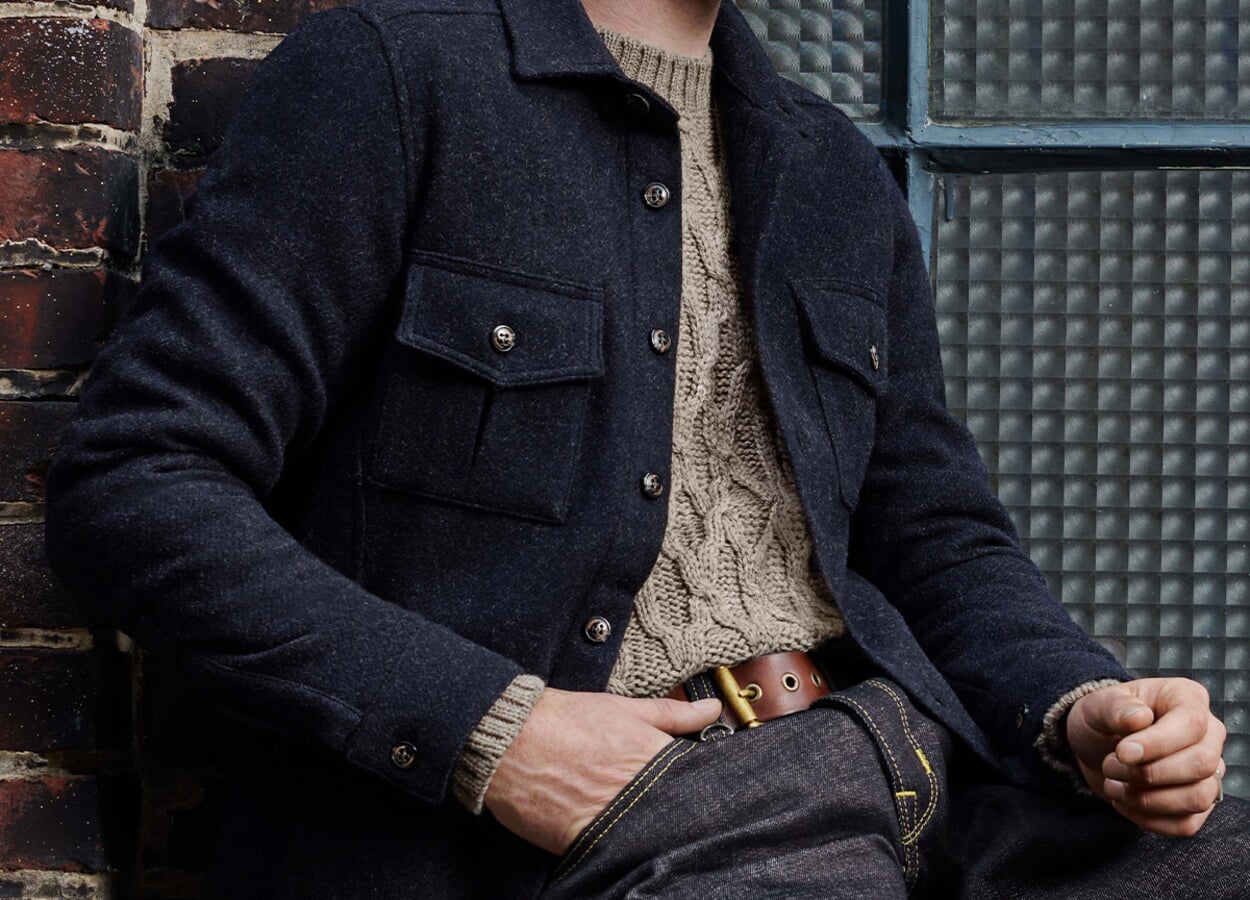 Sweaters made of natural fibers have many advantages over those made of synthetic fibers. Processed as a strong knitted fabric, natural fibers such as wool provide reliable warmth in winter. Light knitted fabrics made of linen or cotton are also pleasant to wear on cool summer evenings. Not based on petroleum, but as renewable raw materials of natural origin, they are also biodegradable and do not release environmentally harmful microplastic particles during washing cycles. What makes them so valuable, moreover, is explained below:
Warming virgin wool: Sweaters made of virgin wool have a warming effect in winter and a cooling effect in summer thanks to the crimped structure of the wool fibers. Moreover, virgin wool is extremely temperature and moisture regulating and therefore comfortable to wear. The wool of merino sheep is considered to be of particularly high quality, as these animals have very fine wool hairs. Lamb wool comes from the first shearing of lambs and is therefore exceptionally soft and warming.
Silky alpaca hair: As a result of the often extreme changes between cold nights and warm days in the high mountains of the Andes, alpacas have developed a coat of hollow fibers that has heat-balancing properties. The smooth surface of the fibers causes the silky sheen. In addition, alpaca hair is elastic and durable, so sweaters made from it are highly durable. Sweaters made of alpaca provide year-round comfort.
Precious cashmere: Cashmere is one of the finest and lightest animal fibers. It is exceptionally kind to the skin and does not scratch. It is also light as a feather, with a soft flowing drape. At the same time, cashmere can store heat up to six times better than wool and is particularly breathable, which is why cashmere sweaters are ideal companions in every season.
Skin-friendly cotton: By nature, cotton is skin-friendly. In addition, the natural fiber is absorbent, durable, long-lasting and easy to care for, as it tolerates high washing temperatures well. Coming from controlled organic cultivation (kbA), cotton is even more skin-friendly, as it is considerably less contaminated with harmful substances than those from conventional cultivation.
Glossy silk: Silk is equally tear-resistant and elastic, so textiles made from it are very dimensionally stable. Due to its smooth surface, silk is not only supple, but also dirt-repellent and insensitive to odors. Silk is breathable, it dries quickly, is almost wrinkle-free and has a climatizing effect.
Airy linen: Linen feels nice and cool on the skin, especially in the summer months. Thanks to the smooth surface structure of the flax fiber, the linen fabric is also smooth, making it kind to the skin and easy to clean. Thanks to their ability to absorb large amounts of moisture, sweaters made of linen are a compelling alternative for people who sweat a lot.
Rip-resistant hemp: Textiles made of hemp have a pleasantly grainy feel and a natural sheen. With each use, the fabric becomes softer and more pliable. Hemp is breathable and temperature regulating. Thus, hemp textiles are good companions for both summer and winter. Because at high temperatures they cool, while they keep the body warm in cold weather. In addition, hemp fibers have a natural antimicrobial and anti-allergic effect and are durable.
Sustainable use of synthetic and regenerated fibers
Some of our manufacturers use regenerated fibers such as Lyocell, Modal or viscose, which are produced from the cellulose of various woods and are therefore biodegradable. We prefer the regenerated fibers TENCEL™ and LENZING™ ECOVERO™ from the Austrian company Lenzing, which are particularly environmentally friendly thanks to the closed production cycle in their manufacture. These fabrics are characterized by a flowing drape and silky feel and are pleasantly cool against the skin. When selecting our products, we ensure that the proportion of synthetic fibers such as elastane, polyester and polyamide is as low as possible, giving preference to recycled materials. With natural fibers, a small admixture increases shape retention and wearing comfort.