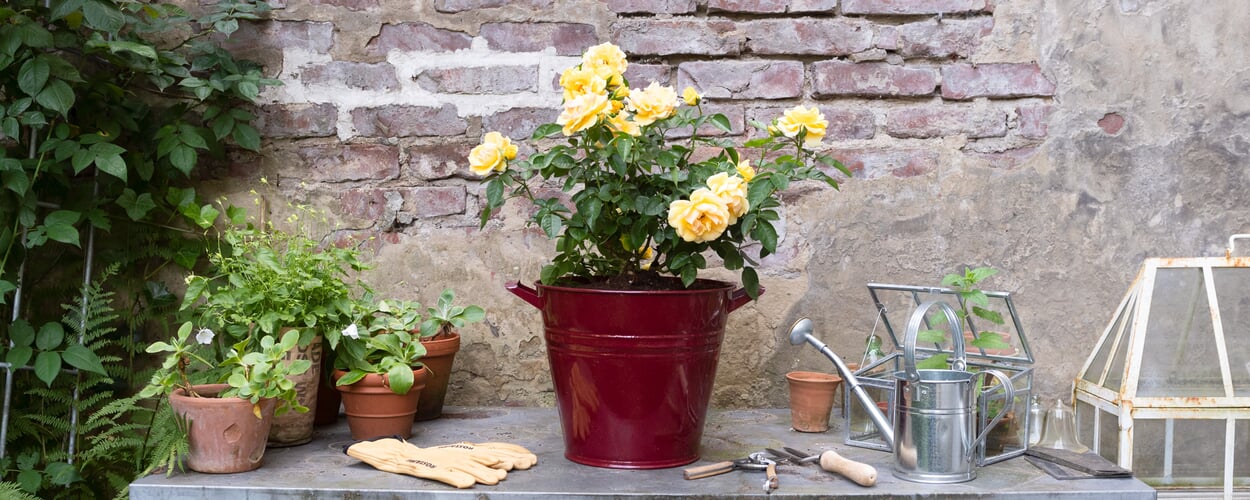 When choosing the right planter, you need to consider a few things. First of all, it depends on which plant is to be placed in it - roses, for example, root more in depth than in width and therefore require tall, rather slender vessels. Another criterion is the location: For outdoor containers, you should generally look for durable frost-resistant material, and for those made of metal, you should also look for rust protection, and wooden containers should be made of durable, native woods. In our assortment you will find pots, tubs and boxes of various sizes and materials: made of galvanized (and powder-coated) steel, oak and robinia wood, ceramics and finally, for a little eternity.
Selected planters at a glance
Selected planters in detail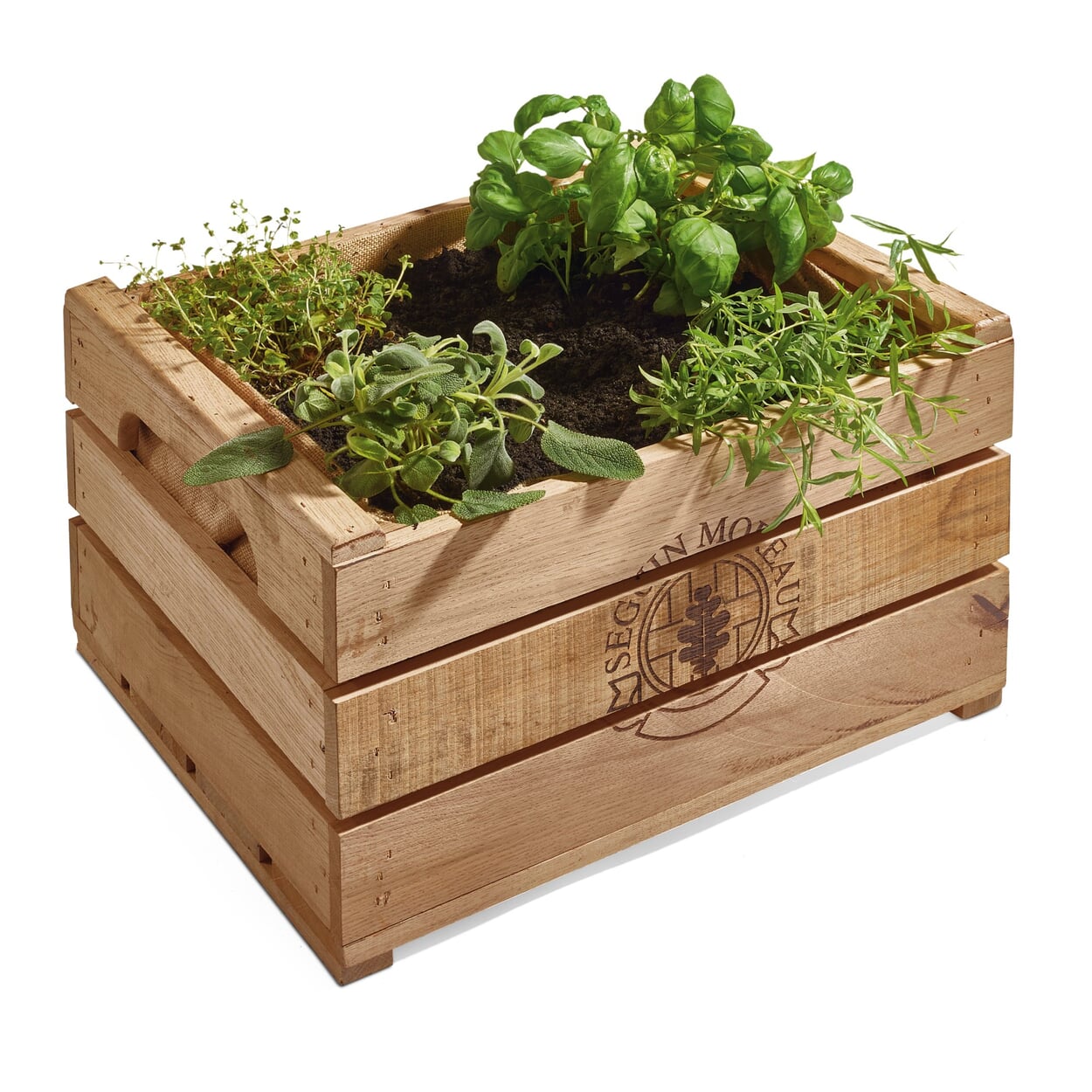 Oak wood is one of the most durable woods of all. Here it meets you in the form of a solid, small planter box for balcony and terrace. The Palatinate supplier of the wooden rain barrels in our range makes them from wine barrel staves. Thus, as a sign of its common use, the wood also has the signets and lettering of various wineries burned into it, and no two planter boxes look alike.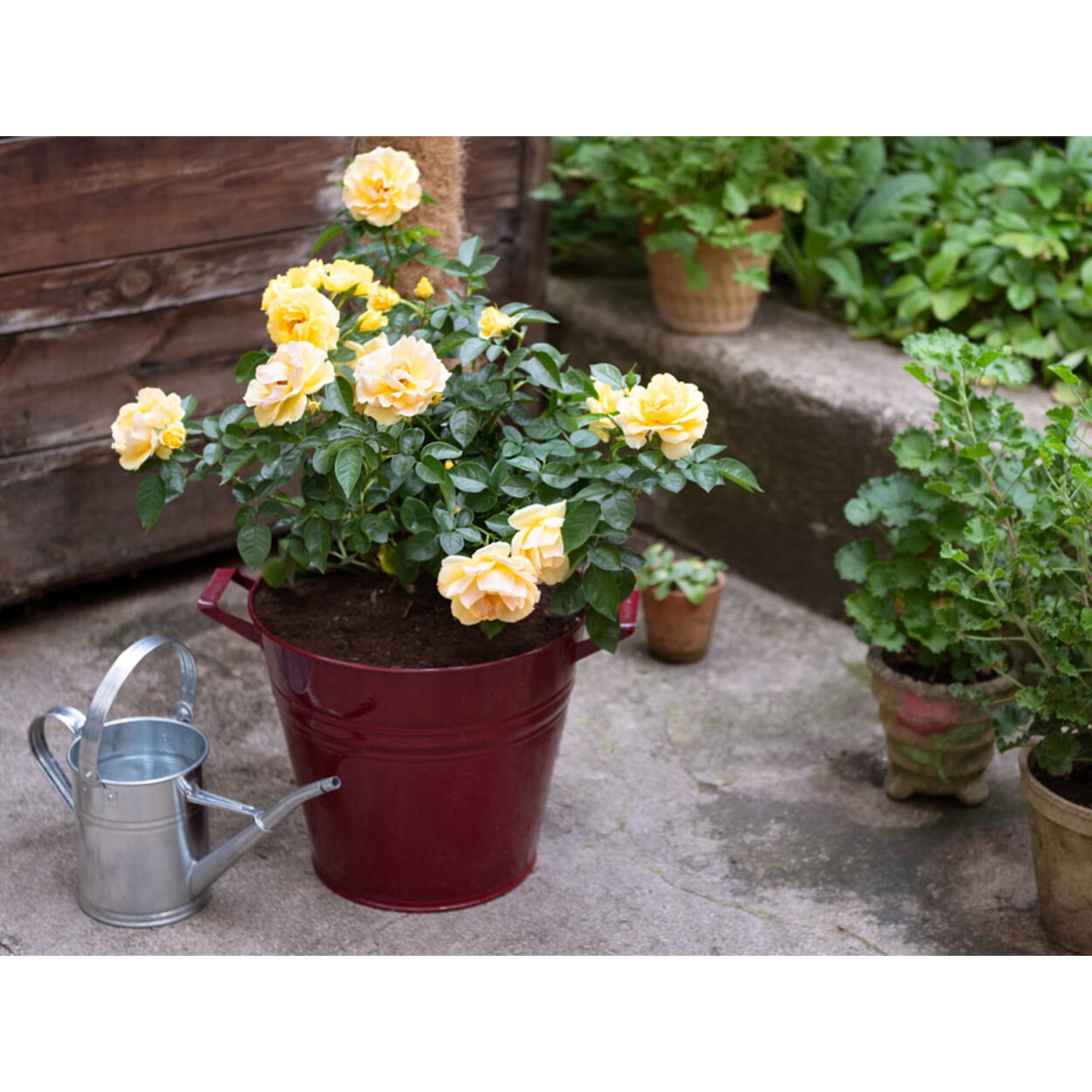 A simple plant pot, equipped with sturdy handles. It is made of steel, first hot-dip galvanized and then powder coated in two operations. So if there is any damage to the outer layer of paint, nothing will rust, because the steel is additionally protected by the thick layer of zinc. Due to the manufacturing process, there are four small dots under the slightly protruding edge, which are not covered by paint - here the holding tool grips during the painting process. With drain hole.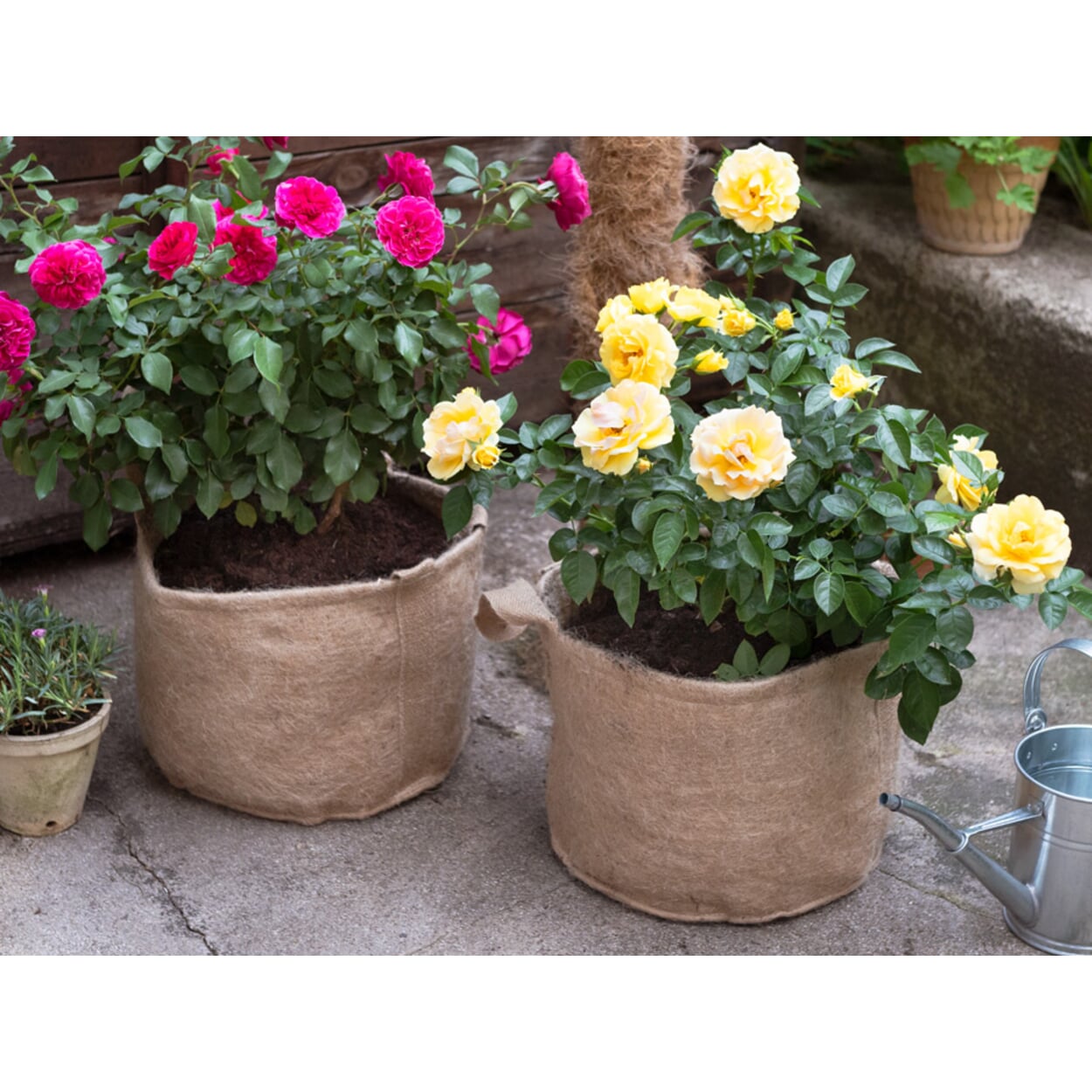 These planters are very versatile in the garden. Planted directly, they can immediately serve as a pot. If you put a planter inside and pad the space between the wall of the pot and the felt with foliage, they reinforce winter protection. And if you regularly harvest fruit or nuts during the season, you always have a suitable container ready with the foldable, lightweight containers. Depending on the intensity of use, location and thus also weathering, the jute felt containers will last at least a few years before they are no longer quite so attractive and show the first signs of rotting. The bags can then be disposed of in the compost. Available in three sizes.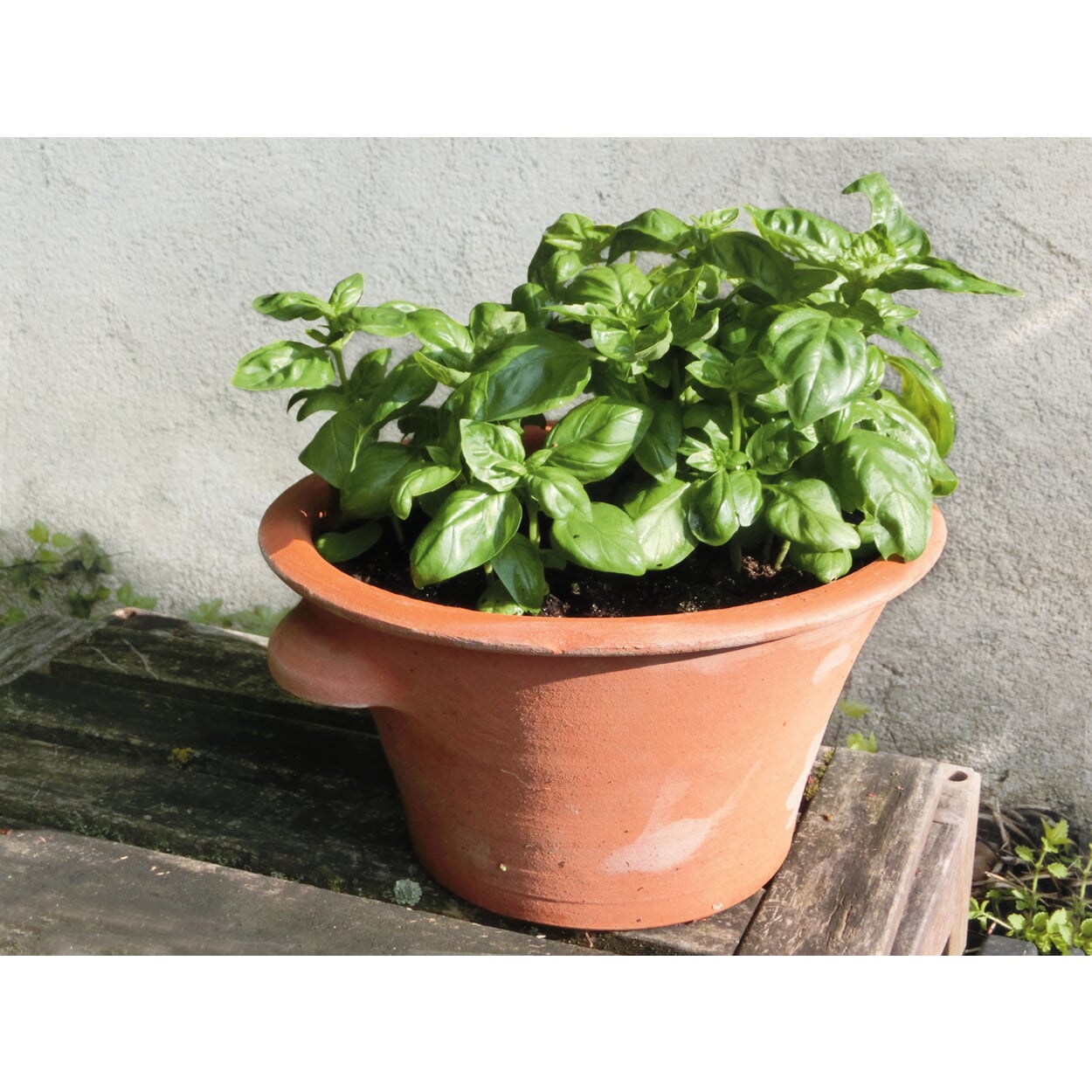 According to historical model, we have this vessel made in a French pottery. It is specially made for planting flower bulbs, so not quite so high (because the bulbs root only shallowly), but with a large diameter (so that many fit inside). The two shell handles facilitate the transport of planted pots - for example, to always be able to move the currently blooming plants in sight. The pot is frost resistant. With the wide, flat shape, the pot is also very suitable for herbs.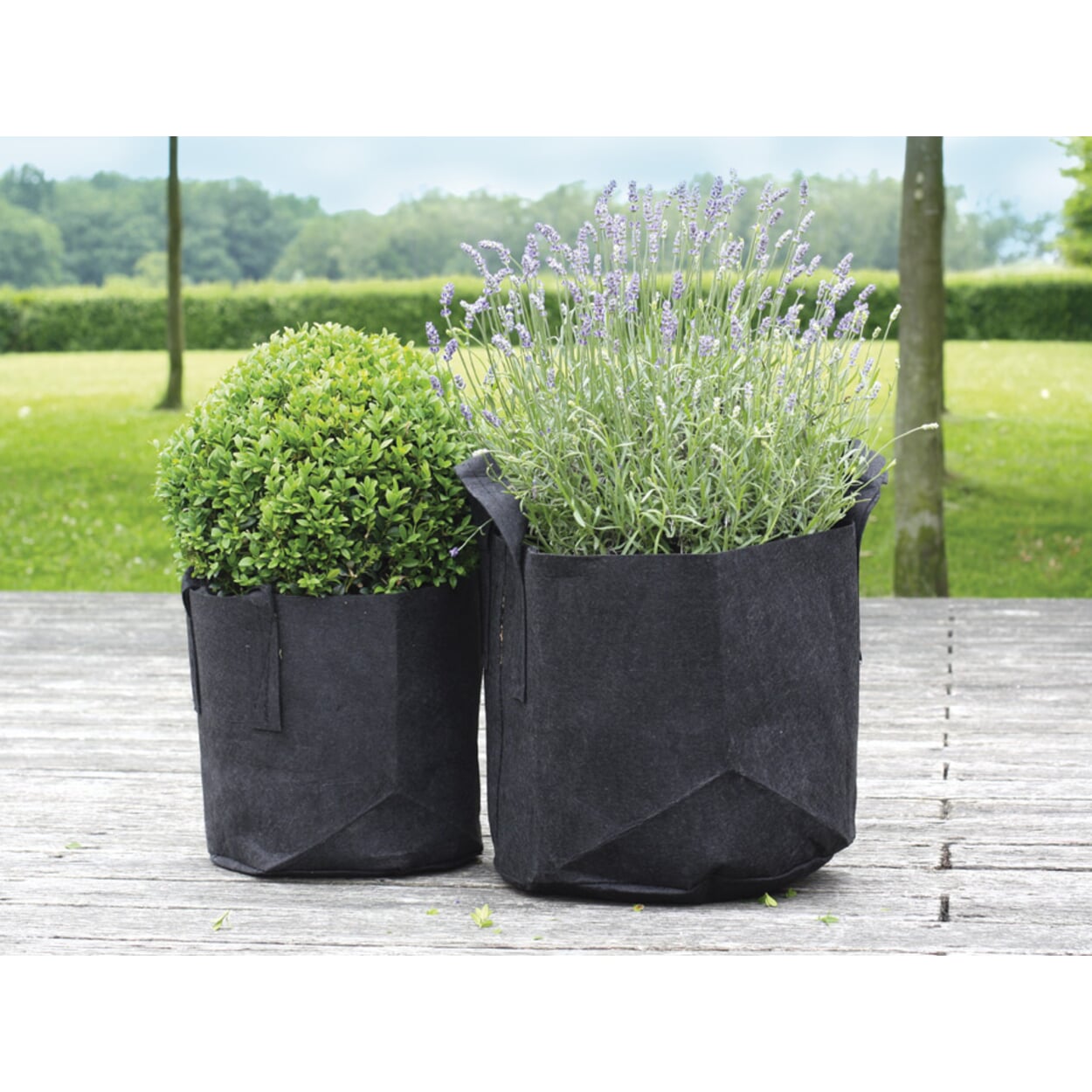 The simple bags are made of a special recycled fiber fabric made from PET bottles that are no longer used and in whose rough structure the roots of the plant get caught. They are thus constantly stimulated anew to form fine roots: very much like in the open ground under the earth. The containers are very light, robust and can be carried like a bag by the large handles. If they are not in use, they can be folded up small and take up hardly any storage space, and they are just as suitable for winter protection for potted plants or as a collection container for waste paper, when collecting leaves or harvesting fruit. n three sizes available.
When planting large containers, it is recommended to first fill a 4-5 cm drainage layer (made of expanded clay, clay shards or gravel). It ensures that water can drain away well and does not accumulate in the vessel, i.e. in the root zone of the plant, during prolonged precipitation. When selecting the substrate, care should be taken to ensure that it is of very good quality; it must be structurally stable, should contain a slow-flowing depot fertilizer and - for environmental reasons - should contain as little peat as possible, preferably none at all. Heavily compacted root balls should be carefully loosened or scored with a knife before inserting the plant; roots that are too long should be shortened. When filling the substrate, care should be taken to carefully close the cavities between the root ball and the pot wall. Finally, the plant is well pressed and watered thoroughly.
Used clay flower pots often have deposits that can harm the plants (e.g. fungal spores). The pots become hygienically clean if they are soaked in warm soapy water (2 to 3 tablespoons of liquid soft soap to 1 l of water) for 15 min and then scrubbed out well. Lime and moss deposits can be brushed off vigorously with a mixture of ¼ l water, ¼ l vinegar and 2 tbsp. salt and then rinsed with hot water.