French cuisine
Bonjour Indulgence. Learning to cook from the neighbors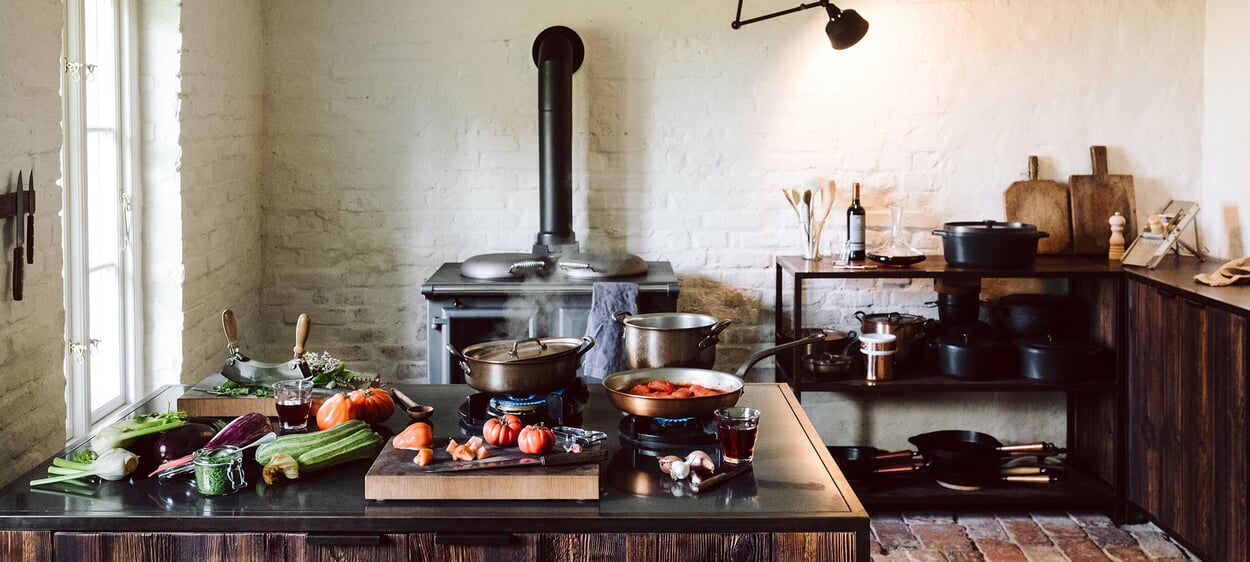 Savoir-vivre: The French art of celebrating life and oneself is world-famous. And anyone who has ever been to France knows that for our western neighbors, eating means much more than simply taking in food. Whether in a restaurant or at home in one's own kitchen: the composition of the menu and the selection of fresh, regional ingredients, together with the matching drink, are celebrated just as much as the preparation itself. On our culinary voyage of discovery, we therefore also make a stop at professional cookware and kitchen utensils that deserve at least drei Sterne.
Cooking like God in France
Copper cookware has a long tradition in French cuisine, as it is able to transfer the right heat at the perfect time. It is refined exclusively with high-quality ingredients such as fleur de sel from Guérande, Provençal olive oil or Banyuls vinegar.
Take a seat!
True French ambience is created with the glasses from La Rochère, one of the oldest glassworks in the east of the country. The hand-forged cutlery from Coutellerie Goyon-Chazeau and the colorful cloths from a weaving mill at the foot of the Pyrenees round off the table opulently.
Prendre un verre. Treat yourself to a glass
Of course, a delicious meal in France is always accompanied by a good bottle of wine. The most elegant way to open it is with a professional sommelier's knife. Carefully decanted, the aroma of some noble drops can unfold much better.
For an enjoyable start to the day
Who doesn't immediately think of fragrant, warm croissants with fruity jam or sweet Provençal lavender honey? Steaming café au lait - of course from a real French latte bowl - should not be missing, of course.
Sweet enjoyment
The land of good food is also known for its chocolates and other confectionery. Fortunately, the exquisite pleasure made from the best ingredients is also available here: sinfully delicious baking specialties from Brittany, delicious Provençal fruit cubes or handmade praline balls from the south of France.