Guides & Tips
For every occasion and every season. Our ladies jackets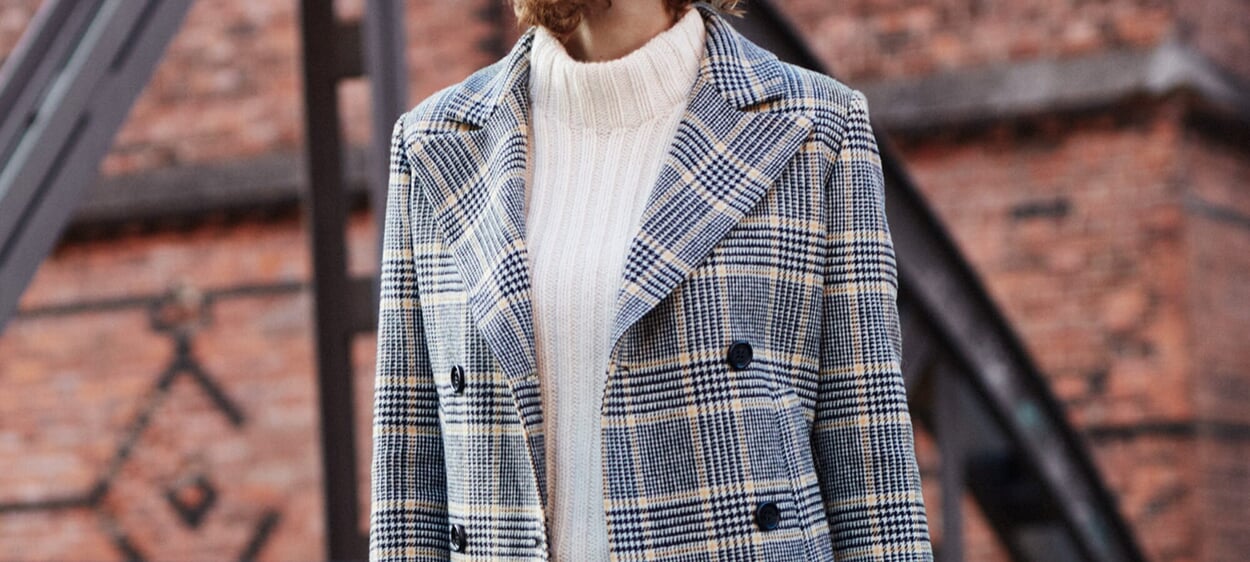 A high-quality jacket adds the finishing touch to your outfit, reliably protects you from rain, wind, snow or cold while leaving you the necessary freedom of movement to comfortably accompany you through all seasons. The women's jackets you find at Manufactum are timeless in style and always one step ahead in terms of function and sustainability. Because we make sure that natural materials or recycled raw materials are preferably used. We offer you classics like denim jackets and leather jackets, functional jackets and winter jackets - all made by responsible manufacturers.
Favorite pieces for every season
There are some classics that should not be missing in any closet. They can be combined with almost any outfit and are above short-lived trends. Among them is undoubtedly the leather jacket. It is a true icon of the fashion world and has reinvented itself over time again and again. We have some long-lasting character pieces made of cowhide, horsehide and deerskin - which develop an extraordinary patina with use and thus become more and more beautiful. The denim jacket - designed by Levi Strauss in the 1880s - will probably never go out of fashion either. Cut short and close to the body, it goes well with casual chinos as well as a figure-hugging dress. Another classic is the shirt jacket. Made of skin-friendly, light and airy materials such as cotton, lyocell or linen, it is a good companion for spring and summer. It can be worn wonderfully with jeans or skirts and always ensures pleasant wearing comfort with its slightly overcut fit.
Functional, of course. In adverse weather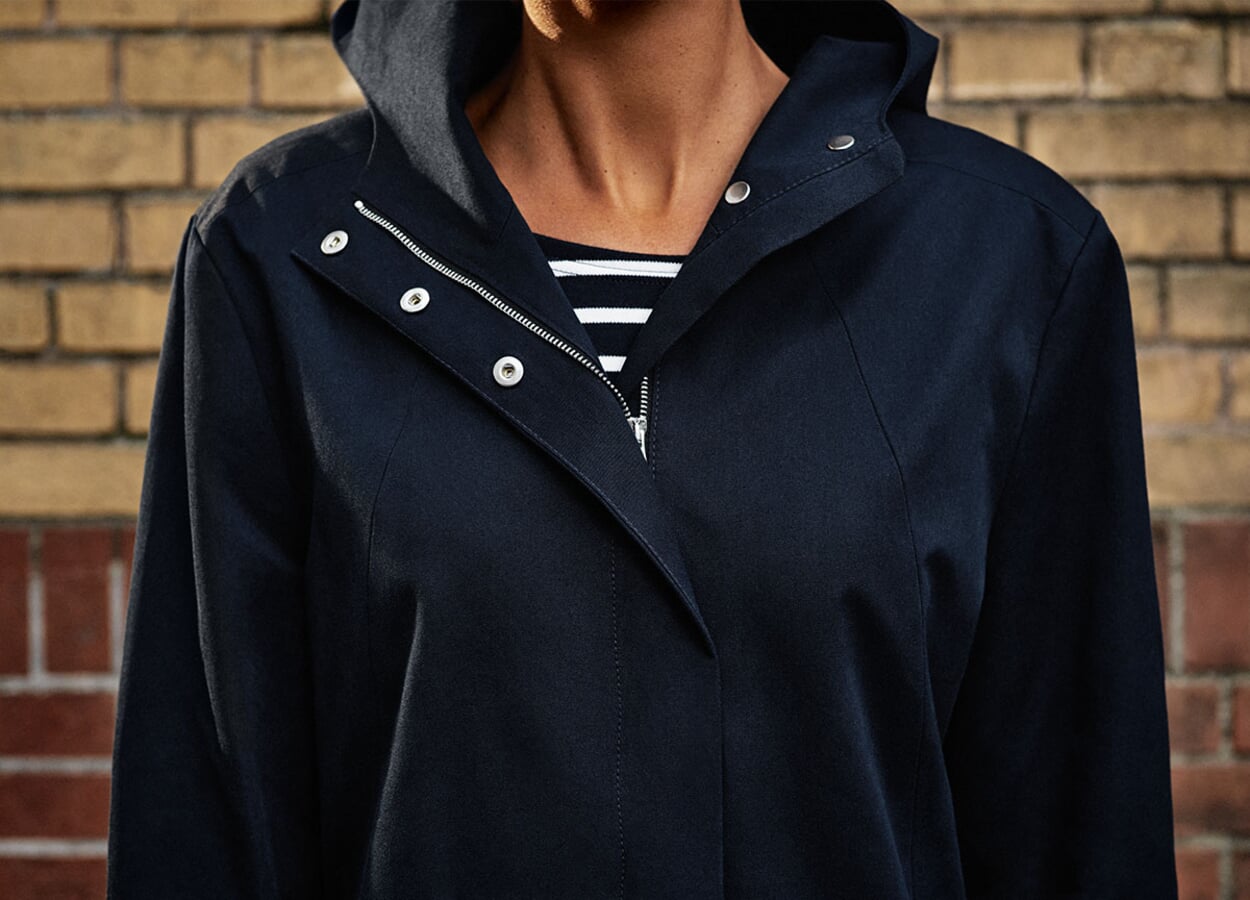 You love natural materials? So do we. That's why we looked around the market for alternatives to conventional functional jackets that don't require petroleum-based chemical fibers such as polyester, nylon, polyamide or polyurethane and still provide reliable protection from rain, wind and mild cold. We have made a find: In our range, we offer skin-friendly, insulating fleece jackets made of 100 percent organic cotton or merino wool, parkas made of Etaproof®, a waxed cotton fabric that rain simply rolls off, and wind- and water-repellent softshell jackets made of cotton. This is our answer to the commercially available synthetic fiber products.
Always keep warm
Women need more warmth. And no, this is not psychological, but actually physiological. After all, men have 25 percent more muscle mass on average than women. And muscles are well supplied with blood and produce heat even during low activity, which is distributed over the entire body. In addition, women are literally thin-skinned: the male epidermis is 15 percent thicker than in women and therefore insulates better. Last but not least, a number of hormones also play a major role. For example, the levels of estrogen and progesterone are significantly higher in women than in men. While high estrogen levels cause the blood vessels to dilate, resulting in a lot of body heat being lost, progesterone causes the arteries to constrict, resulting in the extremities cooling down. All in all, more than good reasons to wrap up nice and warm in cool temperatures - in jackets that are not only stylish but also highly functional, keeping the heat close to your body without making you sweat.
Comfortably warming. Ladies wool jackets
A jacket made of wool is a good companion on cold winter days, which will not leave you out in the rain even in wet weather. This is because wool fibers are highly crimped, creating voids between them that can account for up to 85 percent of their volume. These tiny air chambers have an insulating effect, preventing body heat from being released to the outside. Raindrops bead up on the surface of the wool fiber and water vapor is absorbed. Wool can absorb up to 35 percent of its own weight in moisture without feeling wet. But it's not just the wool that keeps you warm. Special weaving and rolling techniques used in the manufacture of the coat cloth compact the material and thus provide additional protection against snow, wind and, in moderation, rain. Wool, by the way, is not only an excellent outer fabric for winter jackets, but also keeps you nice and warm as a natural filling material in the form of wool fleece.
Cold-resistant, feather-light and animal-free. Ladies jackets with down filling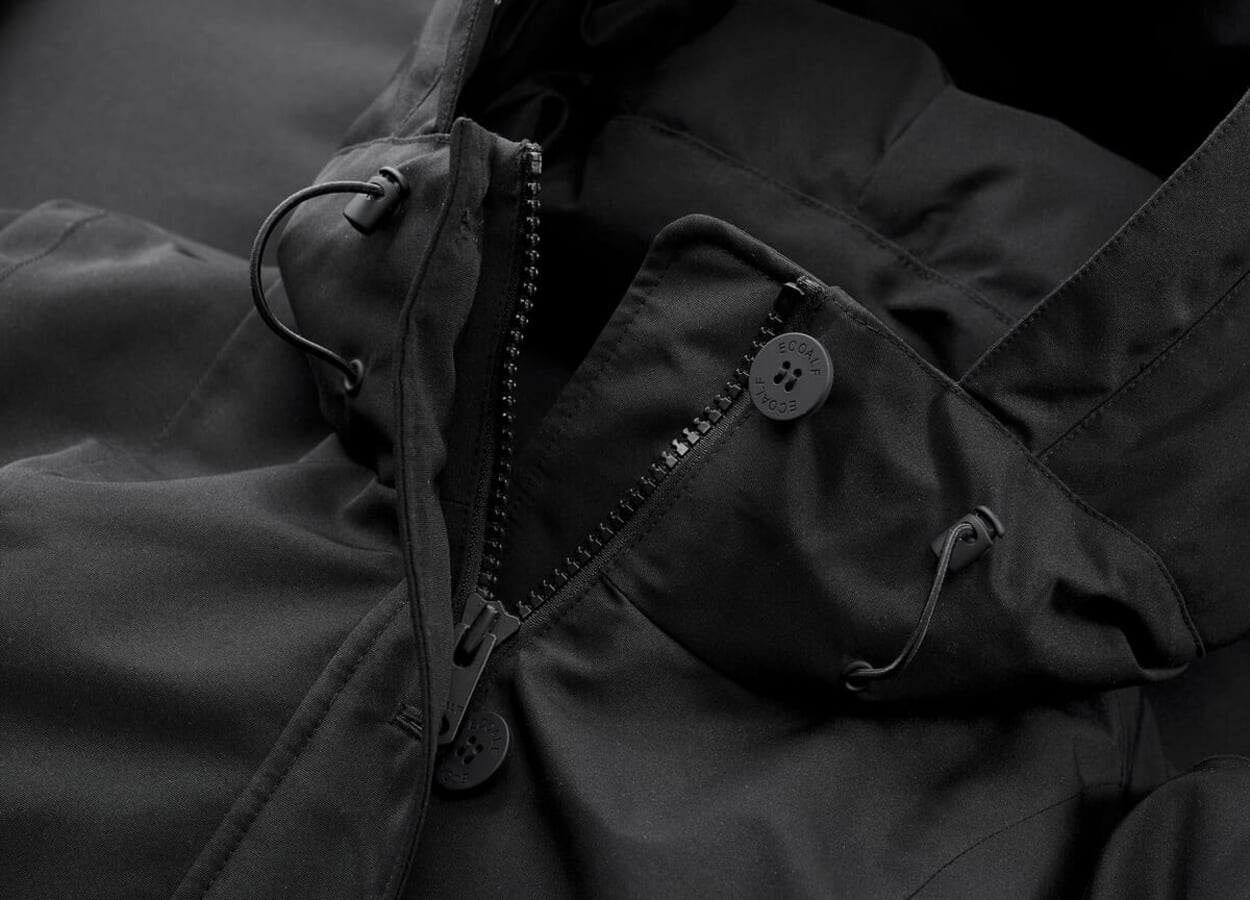 A down consists of a barely visible core with silky soft down legs arranged in a radial pattern. Together they form a flake-like structure and can thus trap a large amount of air, which ensures that your body heat is not lost. Since down is very elastic and durable, when compressed, it springs back into its puffy shape. In addition, they are literally light as a feather, as one down weighs only about 0.001 to 0.002 grams. An important sustainability criterion of our collection: Our manufacturers are committed to using down and feathers that are obtained without animal suffering and are by-products of food production. This means: Neither live plucking was carried out, nor are down and feathers from ducks and geese from the stuffing fattening processed.
But recycled, please. Ladies jackets with synthetic fiber filling
As an alternative to down, synthetic fibers are increasingly being used for the fillings of winter jackets. Some of these synthetic fibers actually have down-like properties: they are light, insulating and, unlike down, even warm when damp, which is particularly advantageous for sports activities. However, because synthetic fibers are produced on the basis of petroleum, we make sure that our collection contains the greatest possible proportion of recycled raw materials - regardless of whether the synthetic fibers are used as a filling or as outer fabric. However, a warming jacket alone is not enough for a woman to feel completely comfortable; her head and extremities must not cool down either. Therefore, hats, gloves, stockings and socks as well as warming insoles are the perfect companions for the cool season. And when you come home after an extended winter walk, a hot water bottle and wool blanket will bring you back to temperature.
This will keep your jacket beautiful for a long time. Care tips
First things first: Before you lay a hand on your jacket, please read the care instructions on the label, because every material has different care and cleaning requirements. - Sustainably effective. Airing instead of washing: Treat your jacket to an "air wash" from time to time. This not only works great on a covered balcony, but also in the bathroom during or after a hot bath or shower. Cleaning and care in one wash cycle: If your jacket is washable, avoid aggressive detergents - for the sake of the environment, of course. Instead, use a mild care product, which is adapted to the respective material. For example, jackets with down filling should be washed with a special down detergent. This ensures gentle cleaning while at the same time re-fattening the down. You should avoid fabric softener in any case - no matter what material your jacket is made of - because it gums up and strains the fibers or down and impairs their natural material properties. - Gently remove stains: In many cases, washing or professionally cleaning your jacket is not even necessary. Light soiling, lint or pet hair can be easily removed with a clothes or lint brush. With a slightly damp cloth, you can get to grips with small stains by gently dabbing the area. Be gentle, test the treatment on an inconspicuous area first, and avoid rubbing vigorously to protect the fibers.