Medicinal plants A|B|C
Witch Hazel (Hamamelis virginiana)


The genus Hamamelis includes five species, three of which originate from America and one each from Japan and China. For pharmacy and cosmetics, however, only the Virginian witch hazel is of interest, a deciduous shrub up to seven meters high that sometimes grows as a tree with a short trunk and broad crown. Its bark is palebraun and smooth; the leaves resemble those of the hazelnut. From September to October appear strongly fragrant, pale yellow flowers with very narrow, almost filamentous petals.
Origin and cultivation.
The Virginian witch hazel is native to the deciduous forests of the temperate zone in eastern North America; the indigenous peoples living there used the leaves and bark to treat wounds and inflammations. Witch hazel reached Europe in the 18th century, but here it is used almost exclusively as an ornamental shrub in gardens and parks. Witch hazel raw materials for pharmaceutical and cosmetic use are mostly imported from North America, where the leaves are collected in autumn and the bark in spring almost exclusively from wild sites.
Ingredients.
Witch hazel extract rich in tannins, saponins and flavonoids is obtained from the powdered bark of twigs and branches of the witch hazel; the dried and chopped leaves also provide an effective extract. The high content of tannins and tannins in these extracts has astringent, hemostatic, antiseptic and anti-inflammatory effects. If the bark or leaves are distilled, the witch hazel water is obtained. It contains hardly any tannins, but the volatile components, for example the essential oil, and has an antibacterial and soothing effect.
Use of witch hazel.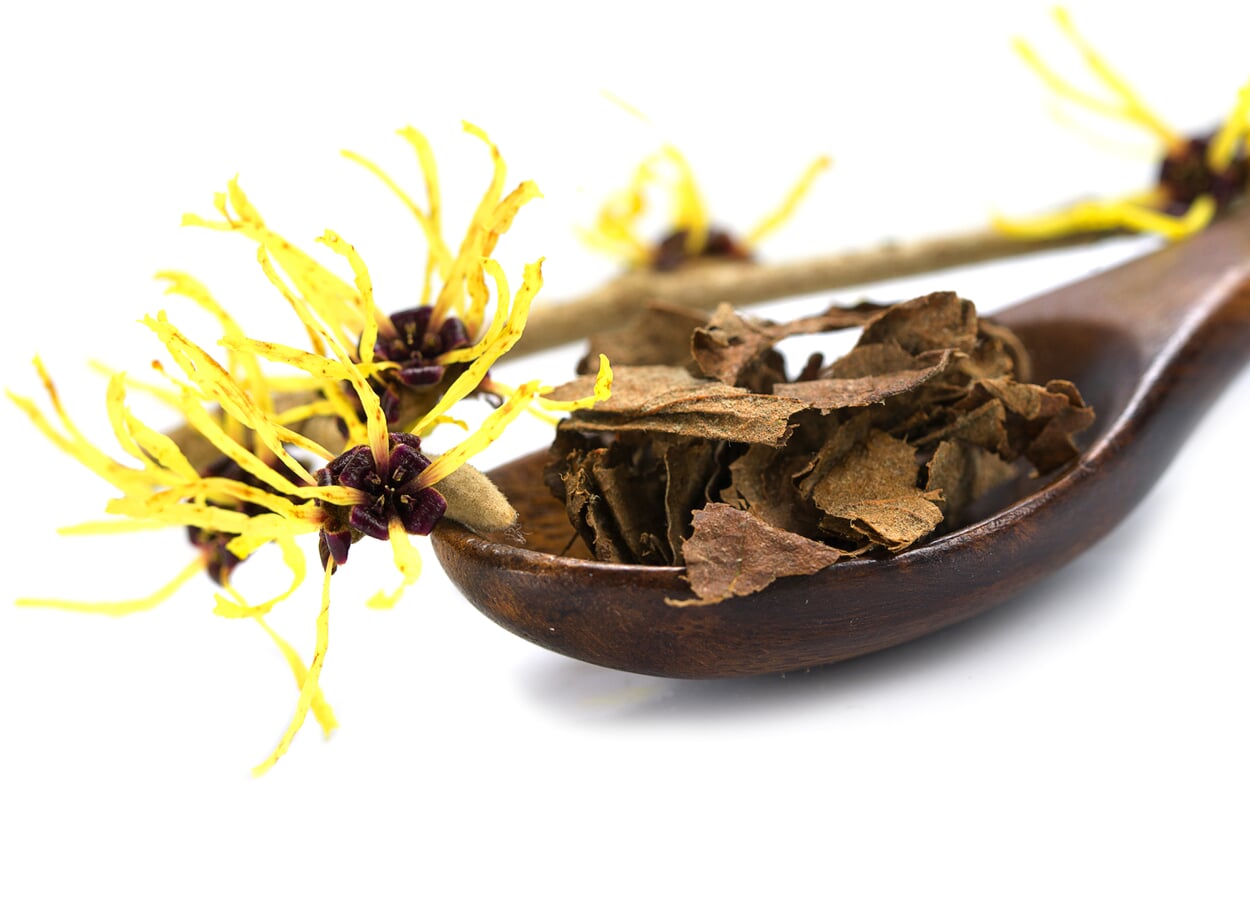 Witch hazel soothes dry and inflamed skin, as well as sore skin in infants and young children. Witch hazel extract and water are suitable for the treatment of minor wounds. As an ingredient in shaving lotions and facial tonics, they allow minor injuries to heal quickly.
In creams and ointments, witch hazel extract soothes mild itching and burning; it is believed that the high tannin content has a weak anesthetic effect on the nerves of the skin.
Witch hazel water is used as a mouthwash and gargle solution, for example for gingivitis, and is also used externally for inflammation, sunburn and insect bites.
As an ornamental shrub are usually planted late-flowering forms of witch hazel - they bloom from January and do not produce ripe fruit.
Exclusive Manufactum body care products