Recipe
Cannelloni with wild garlic goat cheese filling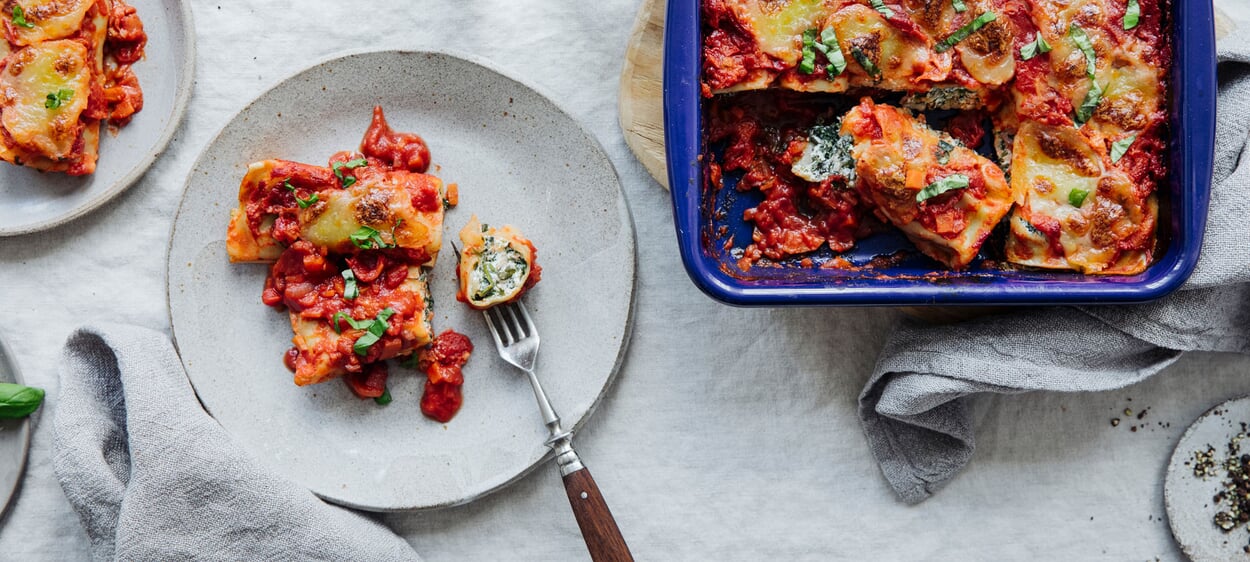 Our cannelloni recipe is the best proof: making pasta yourself is not that difficult. Apart from a little time and good ingredients, you don't need much. Freshly picked wild garlic and fresh spinach (or chard) extend the spring. Ricotta, Parmesan and a fruity, spicy tomato sauce - not to mention mozzarella baked in the oven on top - complete the treat. This is what a vacation tastes like on a plate!
Ingredients for 2-4 people
For the pasta dough:
approx. 200 g flour (type 00)
2 eggs
For the filling:
100-150 g wild garlic
200 g fresh spinach (or chard leaves)
1 tbsp olive oil 150 g fresh goat cheese
100 g ricotta
grated zest of one ½ organic lemon
50 g Parmesan (finely grated)
2 tbsp breadcrumbs
salt
pepper
nutmeg (optional)
For the sauce:
100 g carrots
100 g celery
1 onion
2 tbsp olive oil 25 g sugar
50 ml red wine, dry
500-600 g strained tomatoes
1 scoop organic mozzarella cheese
The preparation
knead flour and eggs into a smooth dough, let rest covered for 30 minutes.
wash wild garlic leaves and spinach thoroughly, dry and chop coarsely. Sauté in a large skillet with olive oil until leaves collapse. Drain and squeeze vigorously, mix with goat cheese, ricotta, lemon zest, Parmesan and bread crumbs. Season with salt, pepper and nutmeg to taste.
Peel and finely chop the carrots and onion. Clean celery and chop finely as well. Heat the oil in a saucepan, add the vegetables and sauté gently. Add sugar and let everything caramelize. Deglaze with red wine and let it boil down. Add the strained tomatoes to the pot and simmer over medium heat for about half an hour
And this is how you shape and fill the cannelloni:
Roll out the pasta dough in two portions about 2 mm thick. Cut the pasta sheets into pieces about 9 × 14 cm and blanch them in a pot of salted water for about 1 min. Lift out and place on a clean kitchen towel.
Pour half of the tomato sauce into a baking dish. Cover each short side of a pastry sheet with a little filling, then roll up toward the center to make a double cannelloni. Place smooth side down in the baking dish.
Brush the cannelloni with the remaining tomato sauce.
Bake in a preheated oven at 180 °C top/bottom heat for about 20 minutes.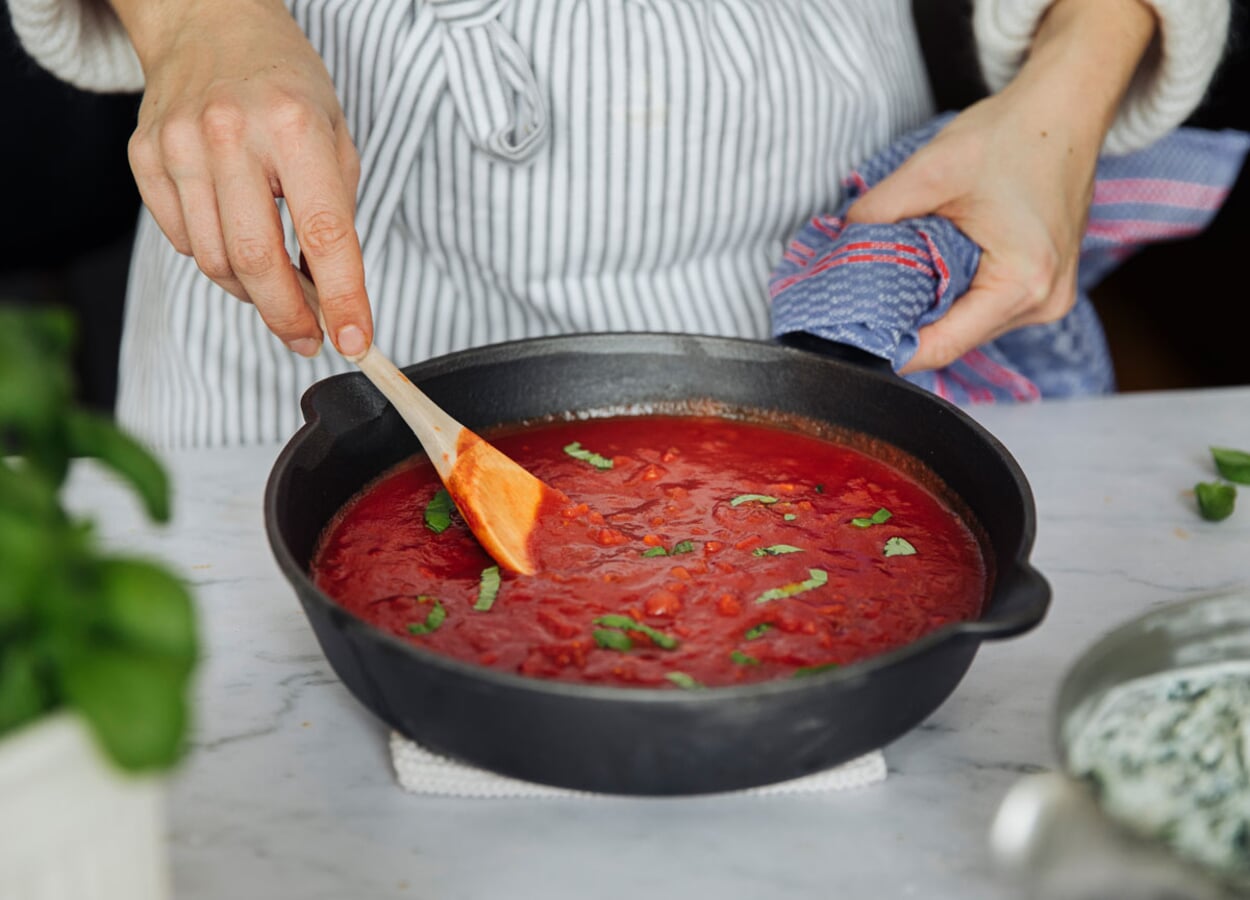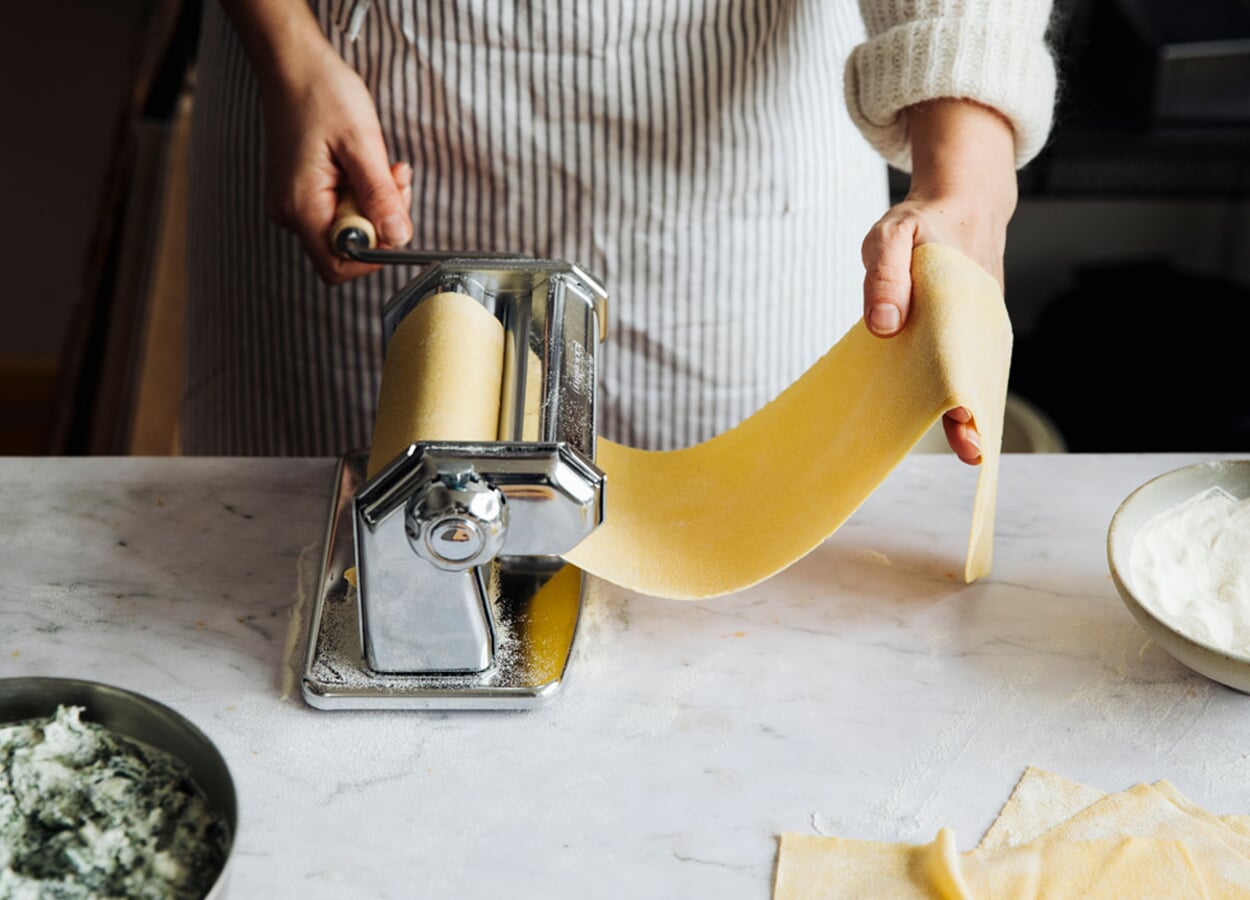 Recommended products at a glance