Recipe
Mediterranean ravioli salad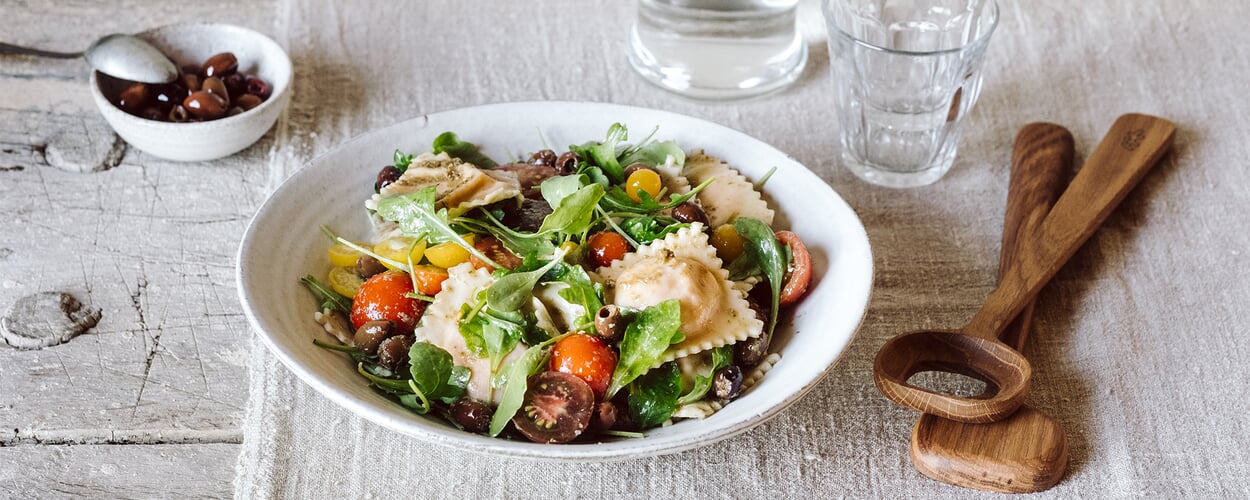 Ravioli! They are a classic of Italian cuisine and every region in Italy has its very own version of this varied pasta specialty. However, it is not entirely clear which country can claim the right to have invented ravioli. Was it Italy, England or even China? No matter, because this delicious pasta comes freshly prepared directly from your kitchen - e basta! Of course, the ravioli salad tastes best with freshly harvested tomatoes and arugula from your (balcony) garden. Buon appetito!
Ingredients for 4 servings
For the ravioli dough:
200 g organic wheat haze
2 eggs (size M)
1 tablespoon organic
Cretan olive oil
For the ravioli filling:
200 g organic cashews natural 120 g red pesto from Liguria
1 tsp salt
40 g Parmesan cheese
For the salad:
4 tablespoons of caper pesto from Salina
2 tablespoons of Cretan organic olive oil 500 g cherry tomatoes
100 g pitted Taggiasca olives
100 g arugula
The preparation
For the pasta dough:
Pile the wheat dust on a work surface, press a hollow in the middle and put the eggs in it. Now, using a fork, slowly mix the wheat dough with the eggs from the outside in. Add the oil a little at a time and knead the whole thing into a smooth dough. Cover the pasta dough and let it rest in the refrigerator for 30 minutes. Our tip: Make sure that the dough is not too moist. If necessary, you can add a little more flour.
For the filling:
Finely puree the cashews together with 120 ml water, salt and the red pesto in a high-powered blender. Grate the parmesan and fold in.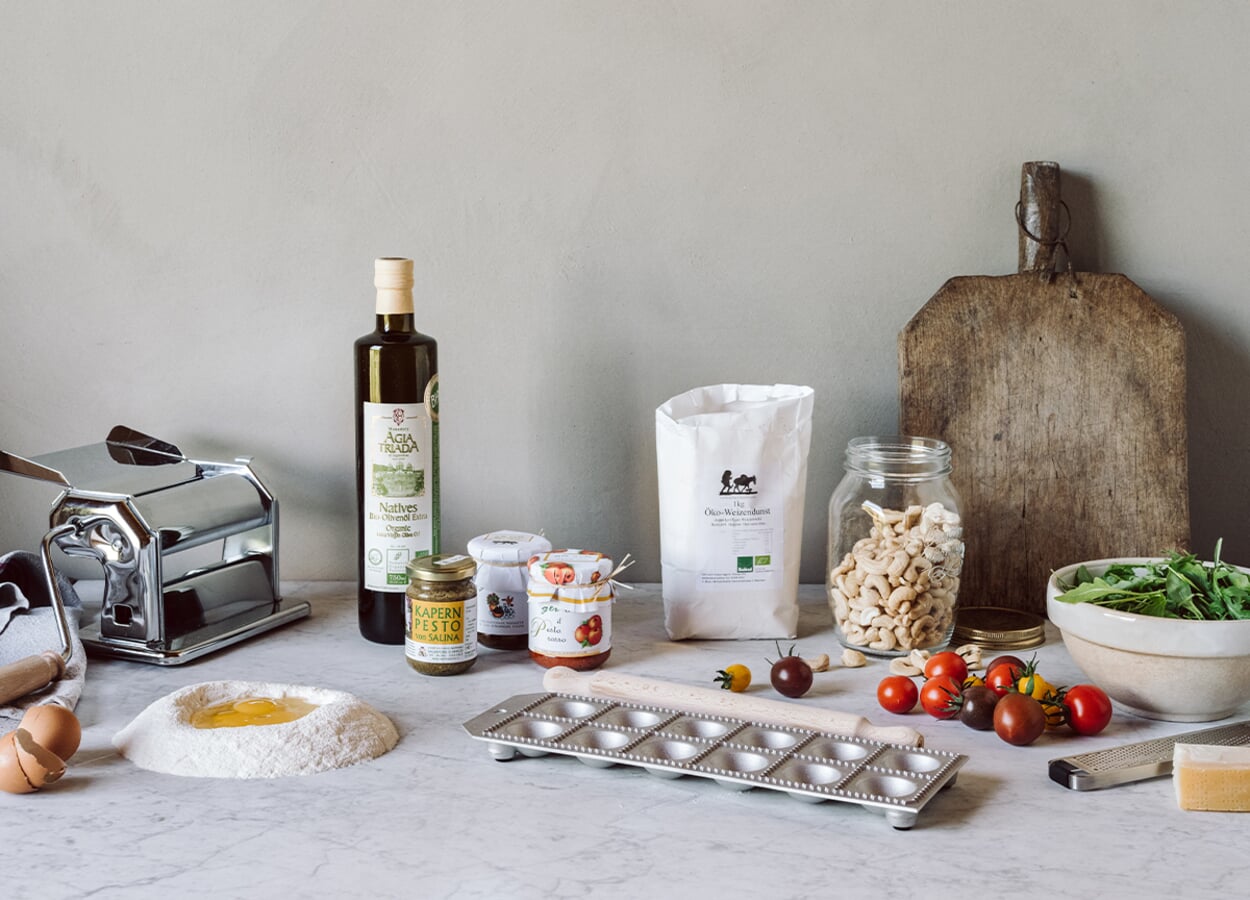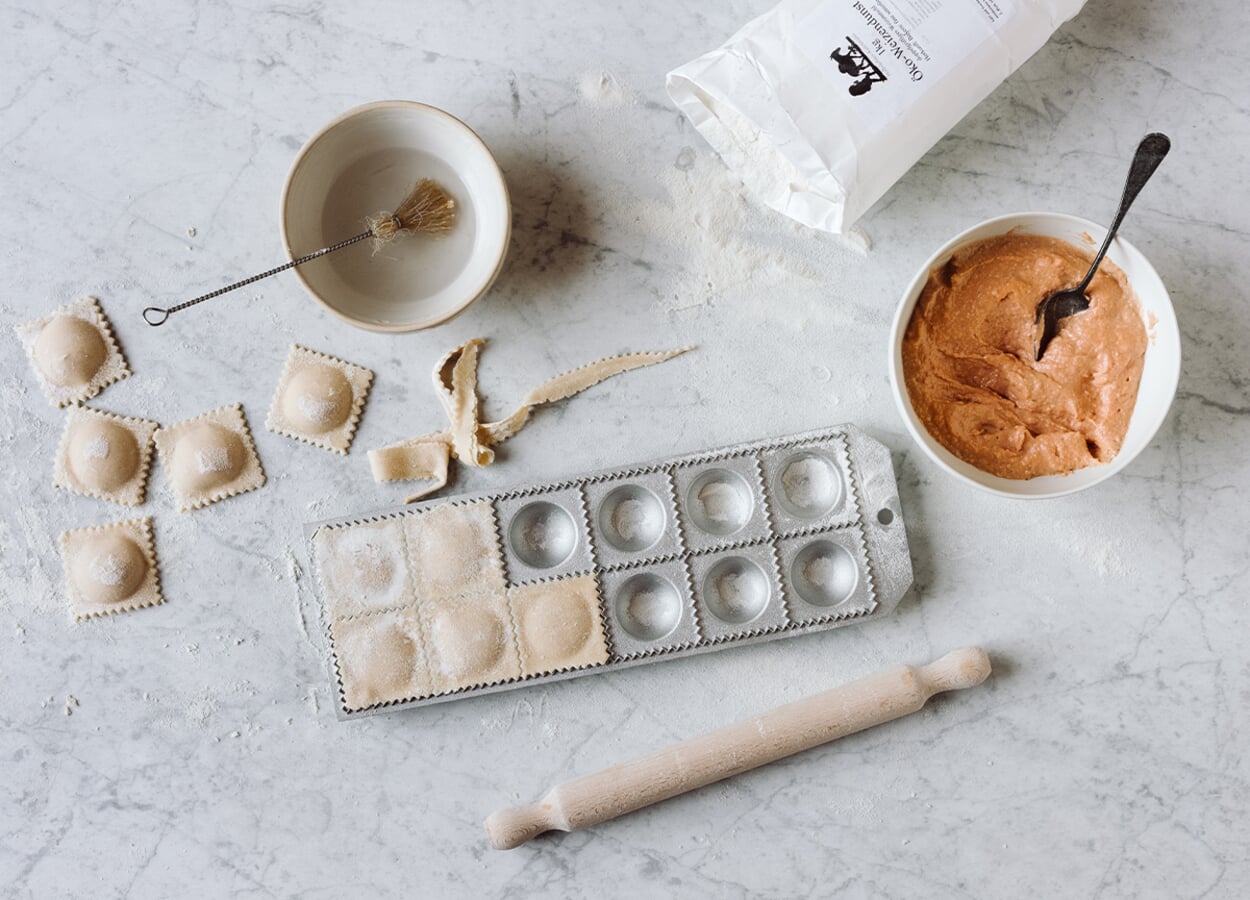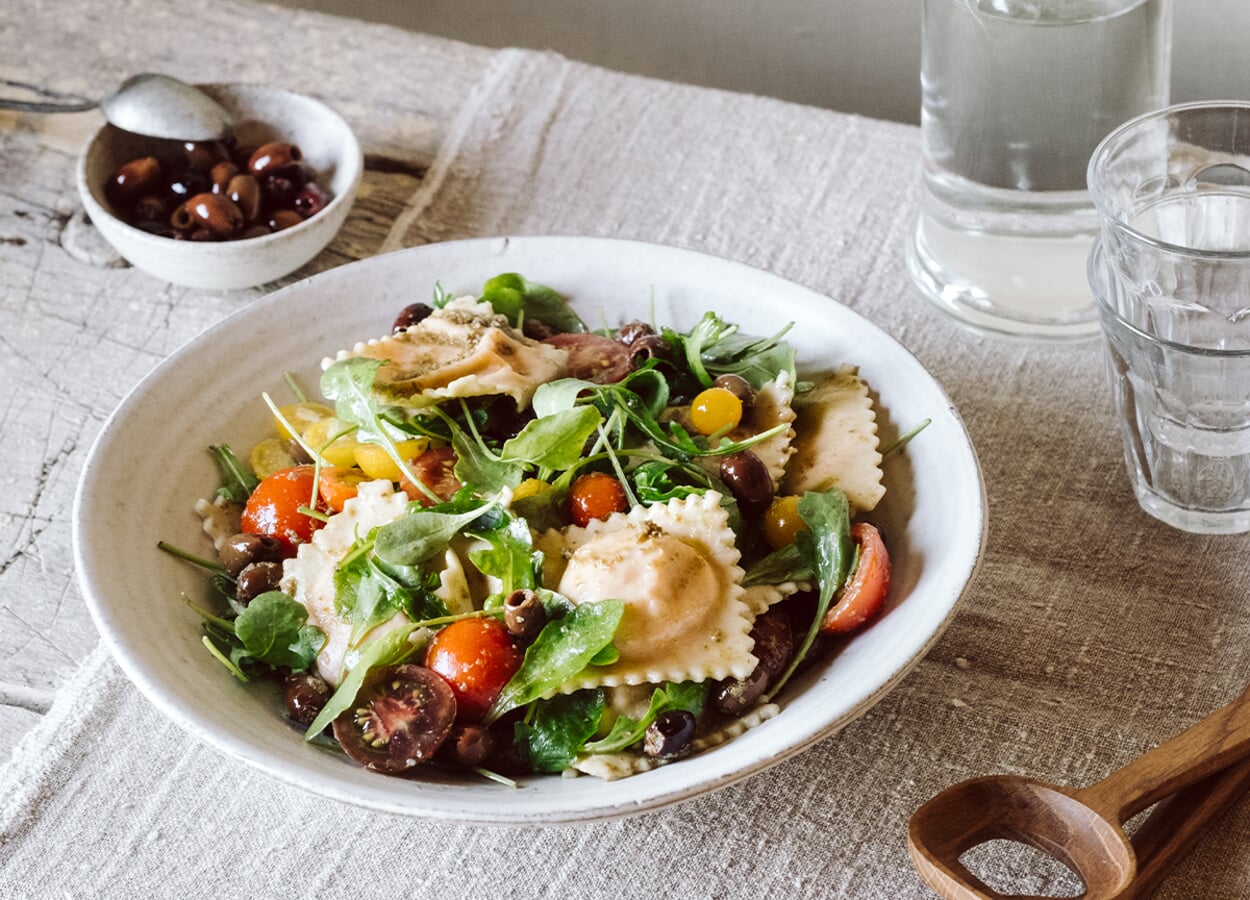 For the ravioli:
Divide the pasta dough into three parts and roll out one by one with the Imperia pasta machine on the lowest setting into thin, even sheets. Place half of each dough sheet on a floured ravioli board and gently press the dough into the troughs. Brush the pasta dough around the troughs with a little water. Spoon a teaspoon of the filling into each well on the pasta sheet, cover with the other half sheet of dough, making sure not to trap any air in the ravioli. Roll over the ravioli board with the rolling pin to close and cut the ravioli. Then turn out of the mold and place on a floured baking sheet. Knead the dough scraps together, roll out and make more ravioli. Bring plenty of salted water to a boil in a large saucepan and cook the ravioli for three to five minutes until al dente.
For the salad:
Mix 75 ml of the cooking water with caper pesto and 2 tablespoons olive oil in a large bowl. Add the ravioli, gently mix with the pesto and let cool. Cut the cherry tomatoes in half and fold into the ravioli along with the olives. Season the ravioli salad with salt and fold in the arugula just before serving.
Recommended products at a glance