Helpful tips
Sturdy garden tables. Places of analog communication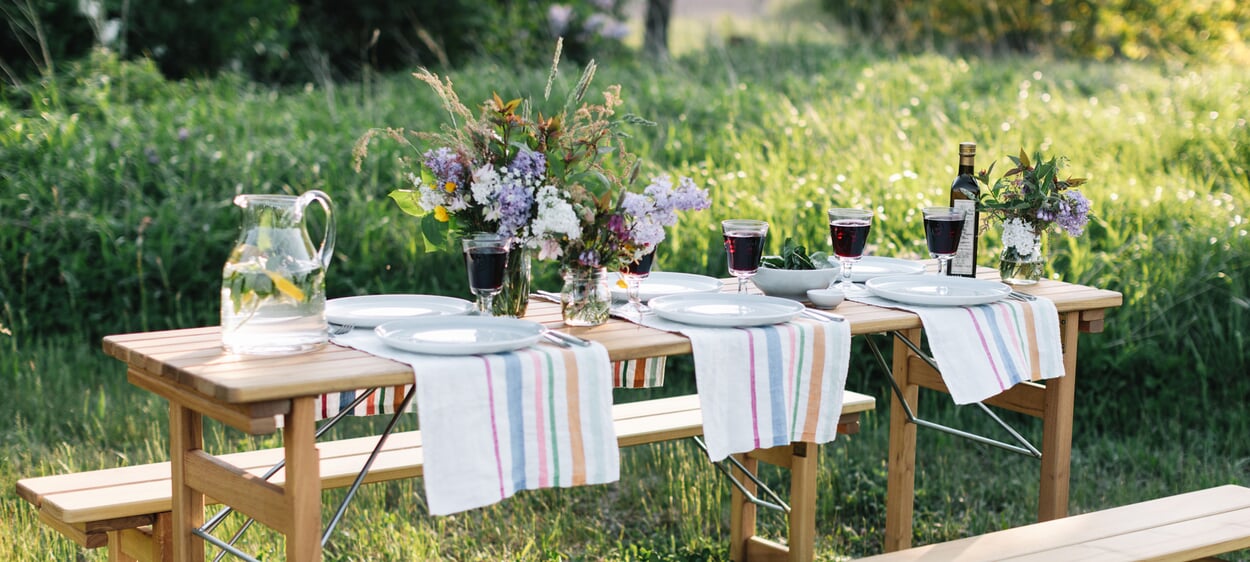 The table is the social centerpiece in the ensemble of garden furniture. If people come together in a cozy round, it takes the central role, as in the house. It is used for eating, laughing and talking together, in a form of togetherness that seems to be becoming increasingly rare in our digital world dominated by screens: face to face - communication at its best, analog. Of course, a table for outdoor use has to meet different requirements than a model for indoor use. It must be able to withstand the elements, stand stably even on uneven ground, and a certain degree of mobility - possibly in the form of foldability - is also an advantage, which is why the dual combination of material and construction also plays the leading role in the selection of a suitable garden table. Nevertheless, the eye should not literally fall under it - the table - because nowadays it is our most distinctive sensory organ. Therefore, our assortment, in addition to the high quality of material and construction, of course, also pays attention to the aesthetic form.
Quality criterion: gastronomy tested. Professional concepts for your home
What better way to test the suitability of garden furniture than its use in the harsh and unforgiving conditions of outdoor catering? And we are not talking about a test run of a few days or weeks. No, we're talking about years and decades in which different table concepts have evolved around the globe to cope with the ongoing strain of never-ending foot traffic, flighty weather, and daily set-up and tear-down. We've gathered some of the best ideas from the international hospitality scene for you. Some of them you will get, as long as you do not own a restaurant yourself, only here with us in original quality. In the following a few examples:
Turkish coffee house tables. The Turkish coffee culture is so famous that the mocha, which was already popular in the Ottoman Empire, has been on the list of the intangible world heritage of the United Nations since 2013. But it is not only the black drink served in the so-called kahvehanes, the traditional coffee houses, that has what it takes to be a perennial favorite. The tables on which it is served also impress with their sophisticated finesse. Stable and handy design, the foldable furniture is not only in the garden a quick to set up communication center, but, due to its smaller size, also ideal for the balcony. The hot-dip galvanized, powder-coated steel is as robust as befits a long life in a coffeehouse
French bistro tables. French bistro culture is also unparalleled worldwide - and so is the furniture that goes with it. In contrast to their counterparts in the Orient, the heavy, round tables made of cast iron, marble and brass are not made to be put away quickly after a successful day's work - once set up, they offer their services indestructibly, no matter what the weather is like and, if necessary, around the clock. It is not without reason that they can now be found in numerous cafés, ice cream parlors and bars throughout Europe. Quality just gets around and in this case also invites you to sit down
Austrian beer garden tables. These tables were developed many decades ago especially for the alpine outdoor gastronomy and have since mastered both the extreme temperature differences of their home country with flying colors as well as the humidity and increased UV radiation common at high altitudes. Their high-quality and absolutely reliable workmanship added to this, they will survive any garden party, no matter how challenging, with ease. Even if it's literally "over the table and benches", they will serve you just as well at low altitudes as they do the operators of Austrian ski huts.
Garden tables to suit your needs. With form, function and imagination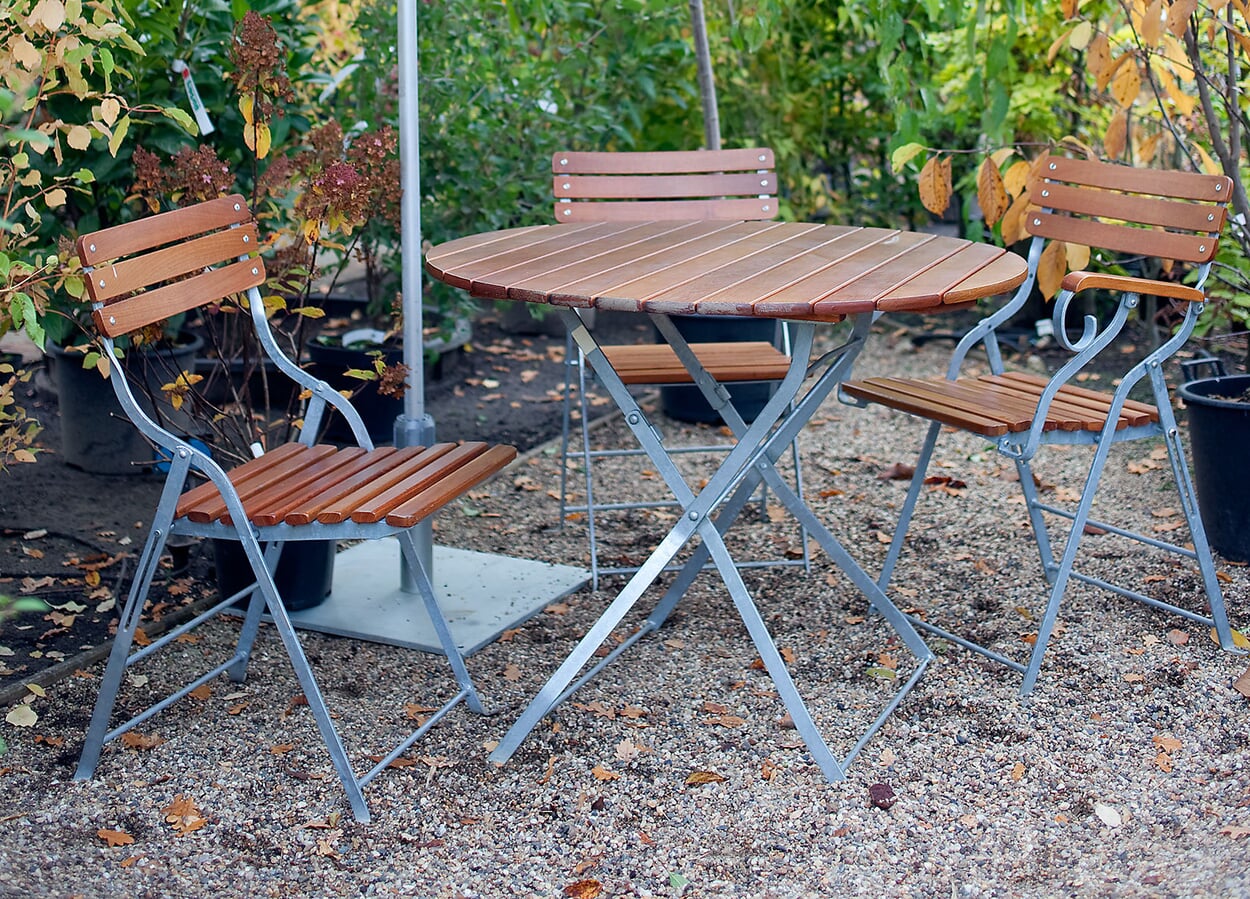 Before buying a garden table, there are some questions that are worth asking:
How much space is available? - How many people should be able to sit at it?
Are certain additional functions required?
What kind of material is preferred and is it also weather-resistant?
Does the table's height also match the seating furniture that may already be present?
We have already written something about some of the topics addressed elsewhere, but they also apply to other garden furniture. Thus, under the heading garden furniture you will find answers to important questions about the garden furniture purchase, which can facilitate your choice. Here you will also find important information about the materials we offer, which include various woods and metals, as well as their care. However, the most important question when it comes to garden table is probably the following: What is its main purpose? Because according to this will ultimately decide which type of table is predestined for you
The large garden table. All under one sky
This table has exactly the right size for long barbecues and extravagant family celebrations, because it can seat at least four people. In return, however, the garden table is also the representative of its guild, which has the least mobility to offer. Those who nevertheless value movement are advised to choose a model with castors - even the largest family with table, child and cone can wander through the garden following the sun. Otherwise the garden table is rather a friend of the stationary stay, which leaves also in the winter only reluctantly its ancestral place, which is however with its robust nature in most cases also not at all necessary. Even concrete is allowed to act as a tabletop for her, and anyone who gets carried away with the word "stunning" in this context is certainly not referring to a lack of stability.
The round (garden) table. Function is non-negotiable
If tables in general provide for communication among people, then round tables do so in particular. Here you always sit opposite your conversation partner at the same distance. It is not for nothing that the "round table" in political life is regarded as the symbolic seating arrangement for participants in a discussion who have equal rights. Round tables are a particularly good place for sharing - whether it's eating, playing games or chatting. However, the round shape often requires more space than one might expect at first glance. With the matching seating furniture, it takes up considerably more space than a square table variant - unless you opt for considerably smaller representatives of this genre, such as the bistro table.
The folding table. Mobile unit for every occasion
The folding table is the prime example of multifunctional utility furniture. Whether camping, on the balcony, as a writing, dining, children's or side table - it always delivers a commanding performance and is also so frugal that it can be folded up and stowed away afterwards without any rampant dismantling dramas. The particular challenge in designing a folding table is to strike a balance between manageability, statics and form, because often a supposed improvement in one of these areas leads directly to a deterioration in another. This is a tricky task, and even today many folding table designs fail miserably, as the subsequent user experiences first-hand with soup plates spilling over and glasses tipping over. So it's worth looking for high-quality, tried-and-tested systems here. After all, you want to relax in the garden and not have to constantly bother your guests and yourself with the cleaning rag.
The side table. Practical helper on the fast
As small aids side tables excel themselves above all if suddenly emergency is at the man, pardon, at the table - if thus the table already groans under the weight of the grill property unloaded on it or the book straight which can be read together with pertinent coffee in the still dew-wet grass danger would run to suffer serious damage. In short, the side table completes the set of garden furniture in an extremely comfortable way. It may not be indispensable, but once you have it, you will quickly appreciate it. Often it is also a representative of the folding table class, but as a rule it is lower and somewhat smaller than its full-fledged table companions. But there are also specialized copies that offer additional functionalities, such as a built-in garden bar.