Material
Douglas fir wood. Load bearing and weather resistant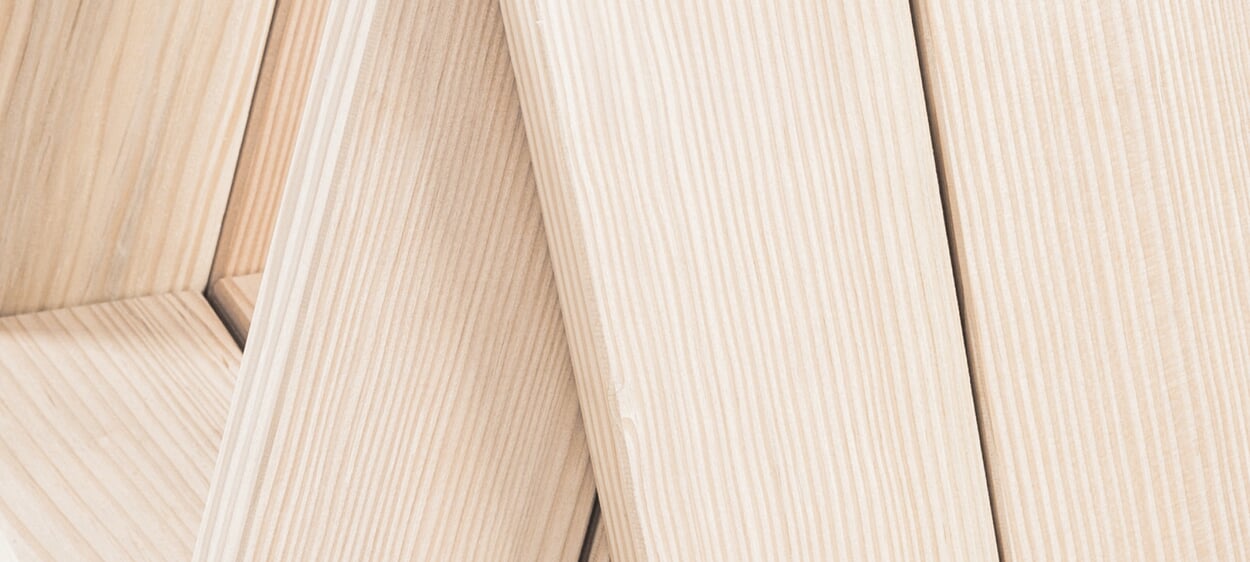 Since the Douglas fir (Pseudotsuga menziesii) was introduced to Europe in 1827 by the Scottish botanist David Douglas, it has been one of the most valuable foreign conifers. The North American native range of the Douglas fir extends along the Canadian and American Pacific coasts and from the Rocky Mountains to Mexico. Since the Douglas fir grows quickly, but requires less water than the native spruce and thus survives drier periods well, it is considered a promising tree species for the forest of the future in view of climate change.
The properties of Douglas fir wood
With growth heights of more than 60 meters and trunk diameters of up to four meters, the Douglas fir is one of the largest trees in the world. The proportion of knot-free wood is correspondingly high, which is valued for its weather resistance and good strength values and can be used in a variety of ways both indoors and outdoors. Worldwide, the wood of the Douglas fir is therefore one of the most important utility woods, which also shows its advantages to the full in our garden furniture and garden equipment products - Thanks to its high bending, compressive and load-bearing strength, Douglas fir wood is an excellent construction wood for medium stresses and for interior finishing.
Due to its convincing durability - it hardly reacts to changes in ambient conditions such as temperature and humidity - Douglas fir wood is particularly stable. - Compared with domestic softwoods, Douglas fir wood has particularly good weather resistance when it is not in direct contact with the earth. It is also less susceptible to insect and fungal attack. It can therefore be used in outdoor areas and is a recommendable alternative to tropical wood. The reddish color and expressive grain give Douglas fir wood a high aesthetic value, which is why it is also popular for furniture making. Because it is moderately heavy, furniture made from it is easier to transport and move, which proves advantageous for our garden furniture, for example.
A soft, damp cloth is sufficient to remove dirt, both indoors and outdoors. Oil the wood once or twice a year to maintain it. If it is exposed to high humidity, it is best to treat it additionally with wood wax. In this way, you can optimally protect it from moisture penetrating into the wood.
Selected products with Douglas fir
Recommended Topics

Oak wood is a slow-growing and therefore particularly heavy, dense-grained and robust wood, which is only surpassed in its natural durability by Robinia wood. The hard and decorative heartwood is used for a wide variety of applications - whether in interior finishing, as construction and furnishing wood, in the manufacture of vats and wine barrels, as well as in (garden) furniture construction and garden equipment.
View more

Robinia wood is one of the toughest and most valuable European timber. In its technical and physical properties, it is very similar to oak - in terms of gross density, compressive strength, tensile and flexural strength, it even surpasses the robust oak. And its high resistance to weathering virtually predestines it for use in garden furniture making and in the field of garden equipment.
View more