Material
Oak Wood. Durable, weather resistant and distinctive grained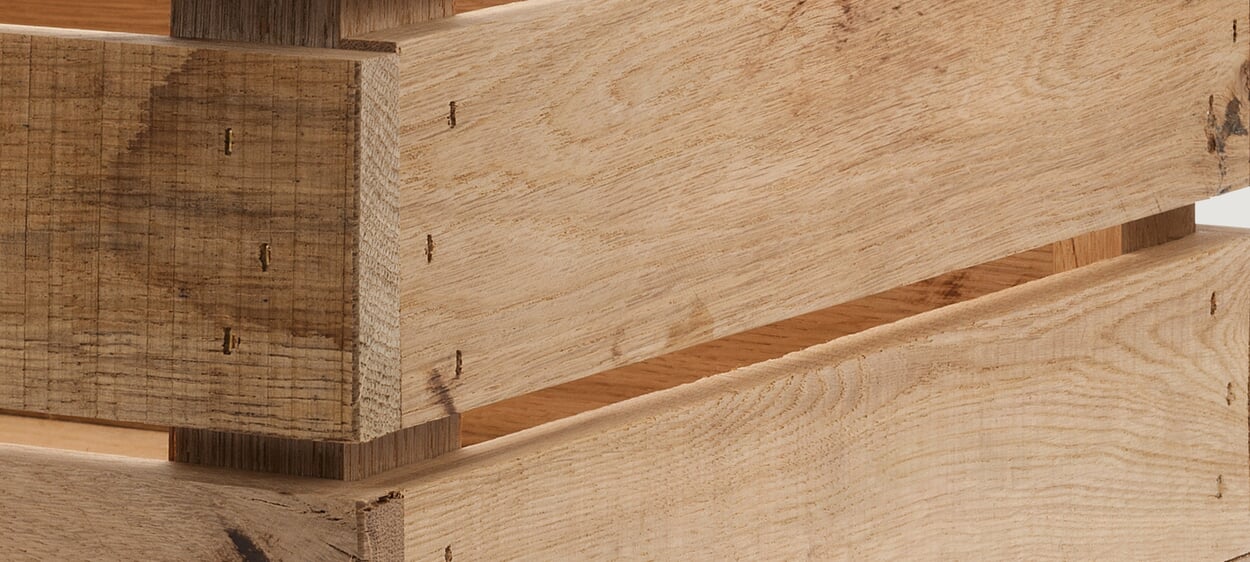 The oak (Quercus), a symbol of permanence and stability, has been growing on earth for around twelve million years. It belongs to the beech family (Fagaceae) and is the most common deciduous tree along with beech, ash and maple. There are more than 400 species of oak worldwide. In Europe, white oaks such as the common oak and the sessile oak are native and important for forestry. The red oak, on the other hand, which originates from North America, is much less common in European forests, but plays an increasingly important role in the timber industry in large parts of Europe. In addition to its use as a source of wood, the oak is also of great ecological importance for biodiversity. This is because no other native tree species is home to so many insects. Birds, mammals, lichens and fungi also benefit from the oak as a habitat and food source.
The properties of oak wood
Oak wood is a slow-growing and therefore particularly heavy, dense-grained and robust wood, which is only surpassed in its natural durability by Robinia wood. The hard and decorative heartwood is used for a wide variety of applications - whether in interior finishing, as construction and furnishing wood, in the manufacture of vats and wine barrels, as well as in (garden) furniture construction and garden equipment. Particularly in solid wood furniture, oak is experiencing a renaissance. After all, the days of clunky, literally slaying living room sets in "rustic oak", which gave the wood a somewhat dubious reputation, are long gone. Today, oak furniture has a much more restrained design and blends harmoniously into a wide variety of living styles. The material also knows how to convince in outdoor areas due to its durability and high weather resistance. We will explain the wood technical advantages in detail: - Oak wood is a native wood with a good ecological balance and can be used in many different ways due to its high durability and weather resistance. It is therefore an excellent alternative to tropical wood, both indoors and outdoors - Oak wood even shows its qualities under the ground and under water. Its resistance to decay and its characteristic smoky aroma make oak ideal for the production of wine barrels, which can be used for other purposes even after a long period of use. The best example of this is our rain barrels and our patio pond made from discarded wine or cognac barrels - The hard and dense oak wood is easy and clean to work with, has low shrinkage and high wear resistance.
Because it is also very tough and has high elasticity and bending strength, oak wood is used not only in furniture construction, but also for sports equipment and tool handles - Thanks to its high proportion of tannic acid, oak wood is resistant to insect damage and fungal attack. However, the tannic acid can cause metals to rust easily and discolor the wood. For this reason, high-quality oak furniture is usually finished only with stainless steel screws or wooden pegs - Of course, oak wood is also prized for its noble appearance. The color of the heartwood varies from a warm grayish yellow to lightbraun. Over time, it takes on a darkbraunhue. The annual rings are very even and clearly visible. Depending on the cut, the marked grain becomes visible as tongue-shaped veins (tangential cut) or as fine medullary rays (radial cut) - Like many woods, untreated oak develops a light gray patina over time, but much more slowly than other wood species. Here, too, a maintenance oil can provide protection and accentuate the natural grain of the wood**.