Material
Cherry wood. Durable and decorative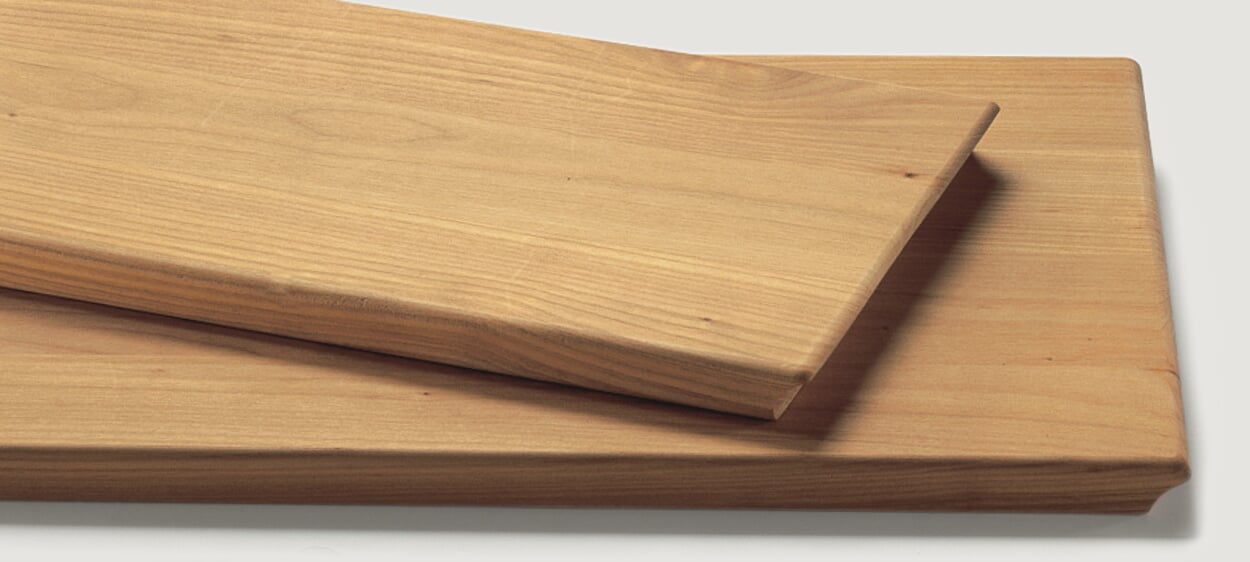 Belonging to the Rosaceae plant family, cherry trees are widespread in Europe, North Africa, Central Asia and the eastern states of America, with numerous species. In Europe, the bird cherry (Prunus Avium) and its cultivated form, the sweet cherry, are the most common. Known for their white blossoms and the aromatic fruits of the sweet cherry, cherry trees also provide a particularly decorative noble hardwood, prized for its fine texture and warm color.
The properties of cherry wood
For centuries, cherry wood has been highly sought-after as furniture wood; its warm red tone, for example, was already highly prized in the Biedermeier and Art Nouveau eras. In the meantime, it has become a classic and is still in great demand today, especially for upscale furniture and interior design, but also for kitchen utensils and home accessories
As a medium-weight and yet hard wood, it has high compressive strength and impact resistance, so that it is convincing as parquet wood, wall and ceiling paneling.
Although cherry wood shrinks considerably during drying, it subsequently exhibits good stability - i.e. it hardly reacts to changes in ambient conditions such as humidity and temperature - and is thus exceedingly dimensionally stable. Provided it does not come into contact with moisture, it therefore proves to be exceptionally durable.
Cherry wood is less suitable for outdoor use, as it has an extremely low resistance to weathering.
Thanks to its natural elasticity, it can be bent very well when exposed to steam. It takes on a warm, reddish color, similar to mahogany, and has a fine-pored, even texture. For its protection and maintenance, it can be easily treated with varnishes, stains, abrasives and oils, resulting in exceptionally smooth surfaces.
For the care of untreated cherry wood, we recommend the occasional, sparing application of drying cooking oil (such as linseed oil) or semi-drying cooking oil (such as walnut or poppy seed oil). The reddish braune hue of cherry wood becomes more intense when treated with oil. Be careful not to get the wood wet. To avoid water stains, it is best to use coasters for cups and glasses. You should clean cherry wood only with a slightly damp cloth.
Finished with cherry wood. The Manufactum kitchen gadgets series
Triangle in the knife city of Solingen has specialized in the production of blade-armored kitchen tools since 1946. We have the kitchen gadgets of our in-house exclusive series manufactured there according to our specifications - with material-strong functional parts made of stainless steel and solid handles made of smoothed and oiled cherry wood from local forestry.
Recommended Topics

The wood of the sycamore maple, which is widespread in Europe, is one of the regional precious woods. It is sought after for its trunk dimensions and its light, almost white coloration. The silky sheen that is revealed when planed gives the wood a beautiful and decorative appearance. As a medium-weight and hard wood, it is very tough and thus stands up well to heavy use.
View more

Larch wood is a very dense and hard wood - along with yew, it is one of the heaviest and hardest domestic softwoods. By nature, it is extremely weather-resistant and durable. In addition, it is largely resistant to pests. This is precisely why it is ideal for outdoor use.
View more